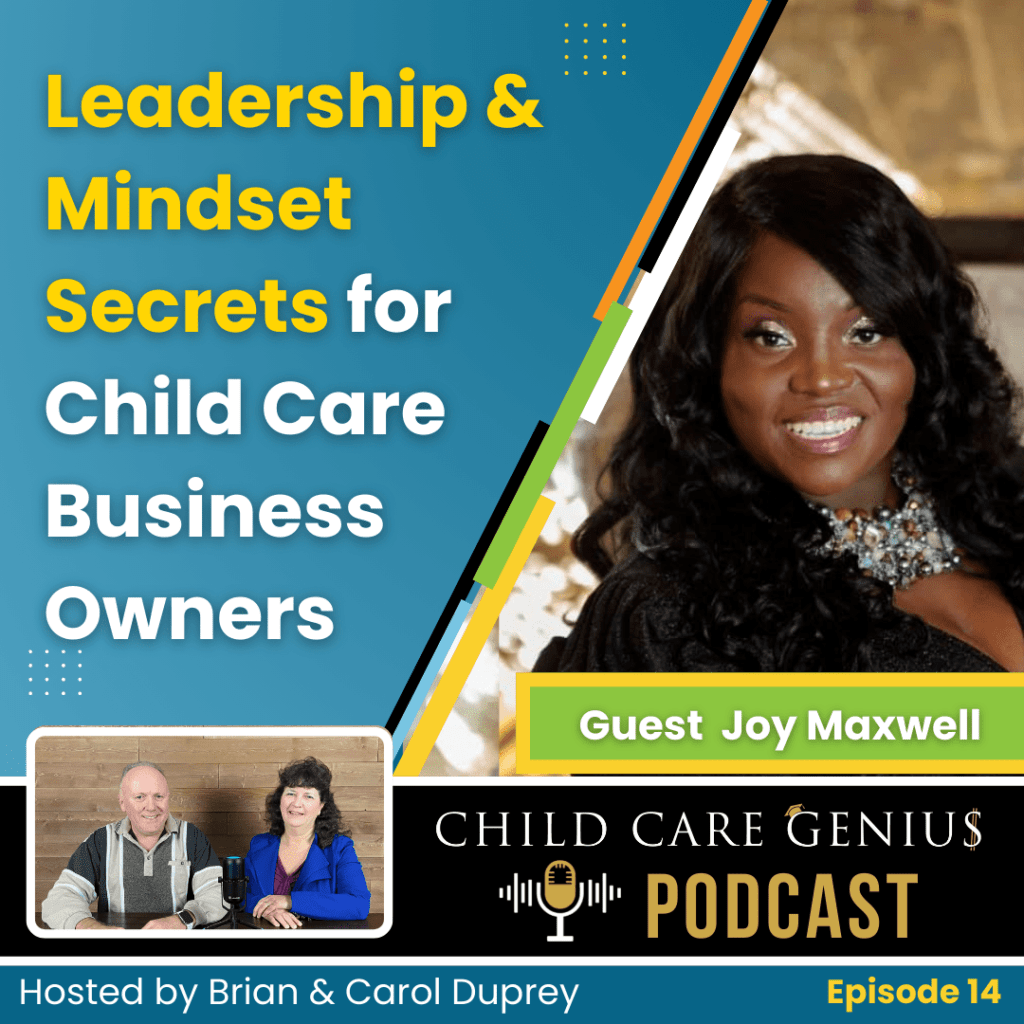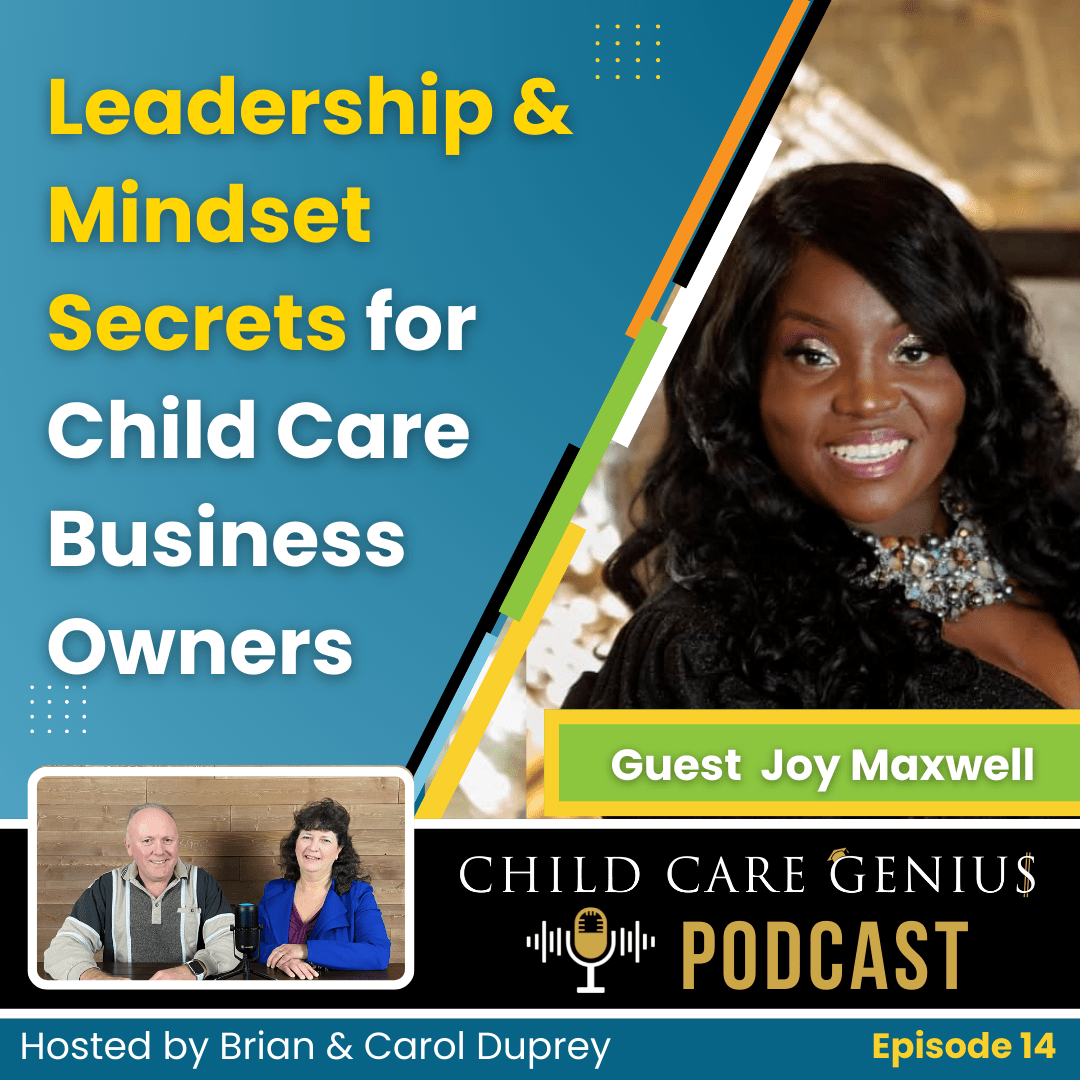 E14 - Leadership & Mindset Secrets for Child Care Business Owners with Joy Maxwell
This episode offers a lively discussion on the impact of leadership and mindset on your child care business with Joy Maxwell, one of our certified child care business coaches (a.k.a. "professors") at Child Care Genius University. 
Joy fell in love with child care when she was just 14 years old through a school work-study program. After she finished college she taught in the school system for several years, but missed the younger ages. 
She said, "Child care has always been my first love." She currently owns 2 locations in Pennsylvania and one location in Florida.
Joy says, "I believe that leadership will make or break your business. People don't leave companies, they leave bad leaders." If your team doesn't feel like you care about them, or if they feel like they cannot trust you as a leader, it can be detrimental to the success of your business.
Don't assume when you hire a director that they know how to lead a team. It takes an investment of time and training to develop into a strong, positive leader (as opposed to a boss)
While being a boss technically puts you in the position of leadership, Joy shares several characteristics that differ between bosses and true leaders. Listen now to learn how to make your team feel supported, nurtured, and valued. Joy says that when you can set the right tone in your business, the whole team will be more productive, positive, and impactful.
"I believe that leadership will make or break your business. People don't leave companies, they leave bad leaders." - Joy Maxwell
Joy emphasized that a positive mindset is important in leadership. She remembered Henry Ford's famous quote, "Whether you think you can, or you think you can't – you're right." Following up with, "Whatever your belief system is, your behaviors will follow," pointing out how your mindset can trick you. 
"You have to know, trust, and believe that things will work out, that you can pivot at any point, that you can make changes, and that you can be successful." - Joy Maxwell
Joy loves to help child care owners. Her favorite part is checking back in with people and knowing that she made a difference and inspired change. She likes to take coaching beyond knowledge, encouragement, and inspiration to the point of implementation. "Knowing what you need to do without knowing how to do it, without a success map, without implementation, all of that only leads to frustration."
If you need help in your child care business, consider joining our coaching programs at Child Care Genius University. Learn More Here. https://childcaregenius.com/university
More About Joy Maxwell:
Joy Maxwell has nearly 20 years experience in education and child care, including roles in after school program development, curriculum building, and family engagement initiatives.
Joy is a proud graduate of Eastern University where she received both her bachelor's and master's degree in early childhood education, and multi-cultural education.
After a short break Joy returned to the classroom to pursue a masters in child psychology and school counseling. She graduated with her second master's degree in 2017 from Gwynedd Mercy University. She is currently pursuing her doctorate degree in educational leadership where she plans to research the effects of social emotional development on inner city youth.
Prior to her role as a child care owner, Joy spent ten years as an elementary school teacher, adjunct professor and curriculum developer for the city of Philadelphia.
Joy's first job in child care was when she was 14 years old while in high school. Joy worked as a teacher's aid, teacher Family childcare provider, and is now a multi-center owner and college professor.
Joy is currently a certified John Maxwell Leadership coach and helps people develop mindset and leadership success skills.
To contact Joy Maxwell:
joy@childcaregenius.com
Mentioned in this episode:
ALEAF Insurance (Official Child Care Genius Podcast Sponsor), Specializing in child care insurance) Contact Blake Sanders for more information: (972) 866-4065, blake@aleafinsurance.com  
Learn more about our coaching programs in Child Care Genius University.
Advanced Child Care Business Strategies: Secrets to Profitability, Expansion, and Wealth Creation
Mindset Leaders Joy Follows:
Joy's Favorite Books: