Learn how to become a Child Care Genius with certified child care coaches, best-selling authors, and motivational speakers Brian and Carol Duprey.
Join their weekly podcast to learn from their more than 25 years of experience building a profitable child care business with 10 locations. The podcast will feature topics focused on increasing center profitability, expansion, employee hiring and retention, cultivating an amazing mindset, and how to retire wealthy, leaving a legacy for future generations. Submit a Podcast Question now.
Welcome to the Child Care Genius Podcast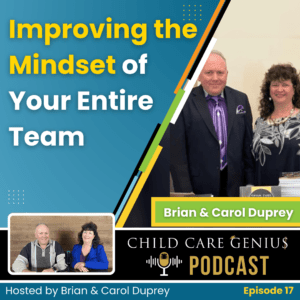 The world's a negative place right now and your employees are struggling with negative mindset.
We do a lot of coaching calls and the biggest pain points we see are staffing morale, culture, and mindset.
Are your team members happy to come to work each day?
Are they enthusiastically complete the tasks you ask of them or is there pushback and grumbling?
Read More »