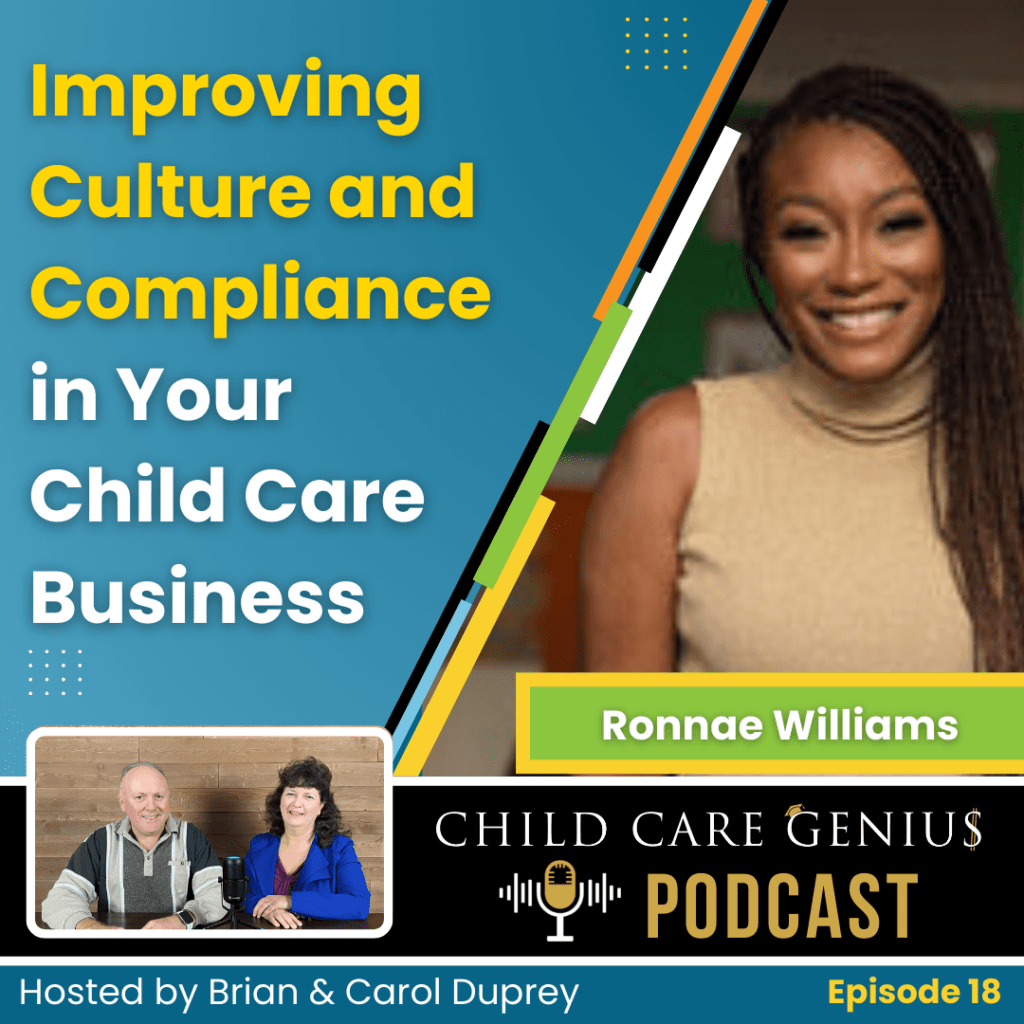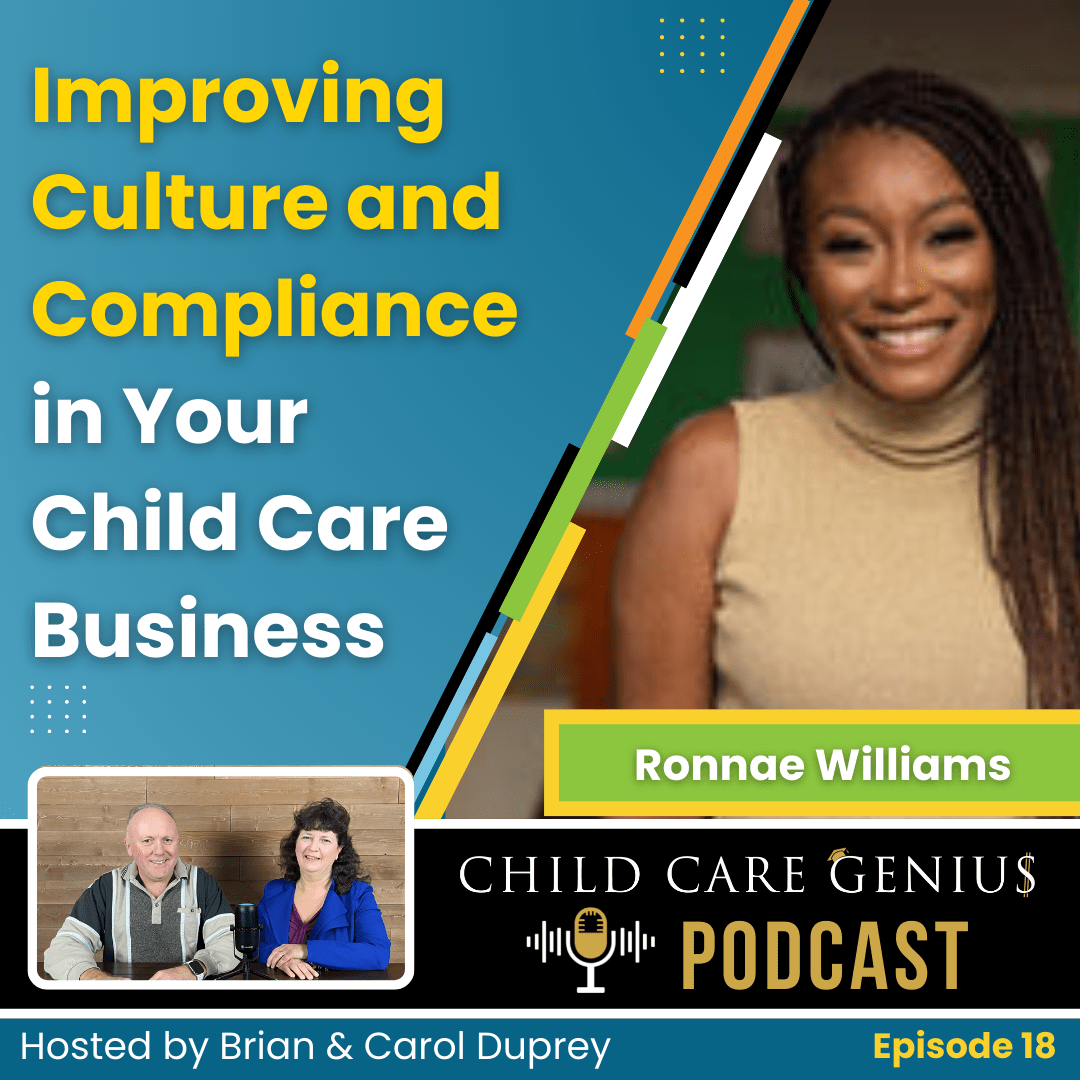 E18 - Improving Culture and Compliance in Your Child Care Business with Ronnae Williams
Do visits from your state licensing consultant stress you out?  Is the workplace culture in your child care business not what you'd hoped it would be? Our next guest may help ease your mind on these topics.
Ronnae Williams is a former licensing inspector in the state of Georgia.  She has worked for KinderCare, Kids R Kids, and is now an adjunct professor with the Child Care Genius University.
Today we're going to be discussing improving your workplace culture and how to be better prepared for licensing visits.
Ronnae discusses how workplace culture can impact compliance. "When you're in a space where the culture is honesty, integrity, wellness, compliance then that's the tune that everyone's marching to."
As a child care owner, you can feel empowered knowing you can adjust the workplace culture in your child care business. Ronnae shares some strategies owners can use to set the culture.
What kind of workplace culture do you want to create?

Define it.

Write it down & hang it up where others can see the direction you're going.

 Then implement it with your team.
Ronnae points out that communication with your staff is key to creating a positive workplace culture. Having guidelines and setting expectations can help your team be successful.  It's important to point out the positive things that team members are doing and not just criticize.  As we like to say, catch your team members doing things right. 
Ronnae expresses the importance of "knowing your team as people and not just your workers.  Meet them where they are as people and that helps with building the culture." 
Ronnae started a child care consulting company called Culturally Yours Consulting and Training.  She can assist child care businesses in obtaining a license. Ronnae also offers state approved training for Georgia and Florida. If you have any state compliance issues you'd like to discuss, Ronnae has a wealth of knowledge to share. 
Ronnae is excited to be a part of our Child Care Genius University.
If you need help in your child care business, consider joining our coaching programs at Child Care Genius University. Learn More Here. https://childcaregenius.com/university
To contact Ronnae Williams:
https://m.facebook.com/CulturallyYoursConsultingandTraining?_rdr
More About Ronnae Williams:
An Early Childhood education expert and professional, with over 15 years of experience including:
Lead preschool teacher

Child Care Center Management

State Licensing Consultant

Regional Manager for a nationally recognized Child Care franchise

Marketing Project Manager for a nationally recognized Child Care franchise

Strategic Partnership Sales Manager

And  so much more…
I have a Bachelors of Science in Child and Family Development and a Masters in Business Administration, with an emphasis in Management.
My experiences within the early childhood industry along with my education, has allowed me to support hundreds of child care facilities across the U.S with licensing compliance, compliance for accreditation, licensing complaint investigations, civil actions, franchising, and so much more.