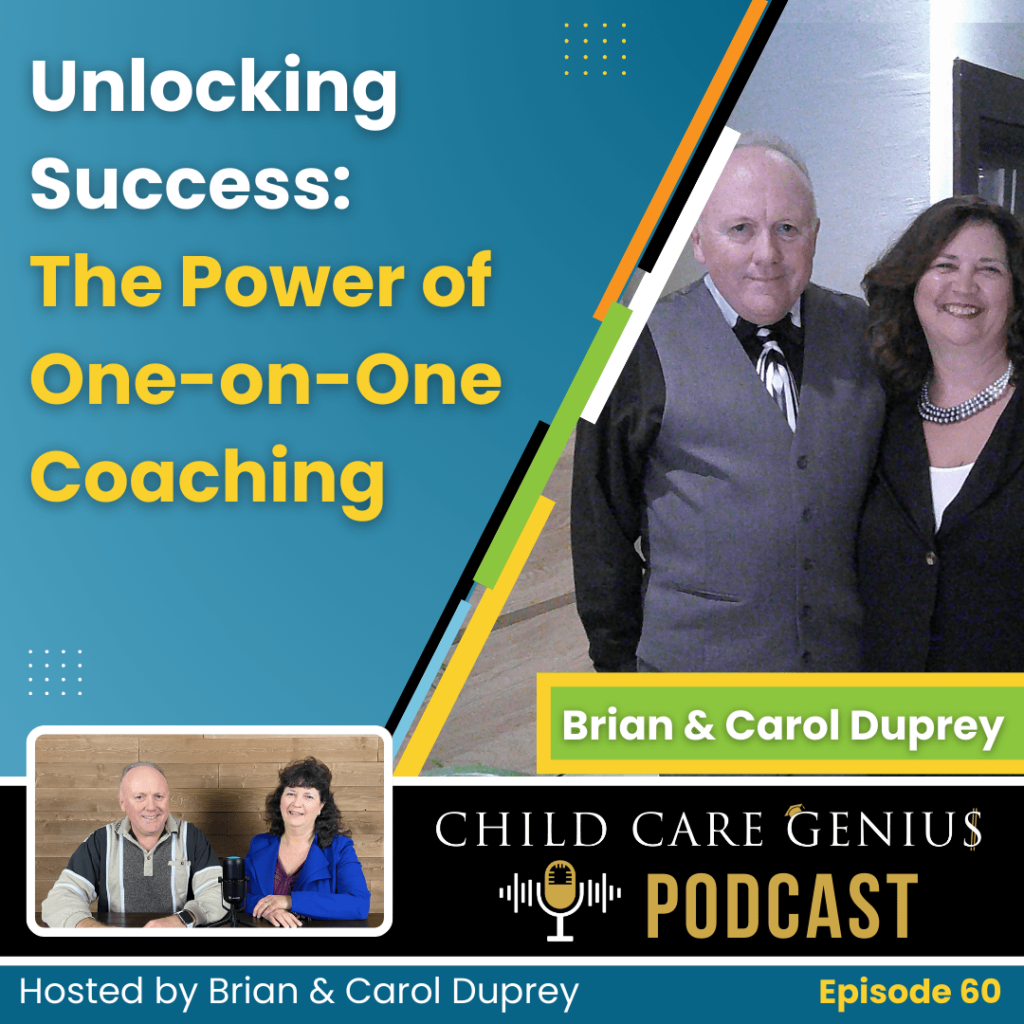 E60 - Unlocking Success: The Power of One-on-One Coaching
Welcome to episode 60! Carol and I just returned from our Leverage Conference in Jamaica, relaxed, sporting tans, and more eager than ever to work with our clients. 
Now, for those of you tuning in, you might not be aware of this, but our conferences are a bit different—no sales pitches, no endless product promotions. But today, well, today is a bit of an exception. 
While our time in Jamaica was a blast, today, we want to shine the spotlight on something equally exciting— Child Care Genius University!
Join us as we dive into some key reasons why our Child Care Genius University one-on-one coaching approach is a game-changer:
Personalized Attention – When you have a dedicated one-on-one coach, there's no place to hide. You get personalized attention tailored to your unique needs and challenges. We understand that every child care business is different, and our coaching reflects that.
Problem Solving – Ever had an issue in a group setting but felt hesitant to bring it up? That's where one-on-one coaching shines. We create a safe space for you to discuss your concerns openly, leading to better problem-solving and more effective strategies.
Focused Growth – With our team of seasoned coaches, including Carol and myself, you gain access to a wealth of knowledge and experience. We understand the child care industry inside and out, and we'll help you focus on the areas that matter most for your growth.
Real Solutions – Our coaching isn't about fluff; it's about real, actionable solutions. Whether you're facing staffing challenges, financial issues, or marketing hurdles, we've been there and know what works.
Transparent Pricing – We believe in transparency and always list our prices for the CCGU levels so you'll know exactly what you're getting. No hidden fees or surprise charges, just straightforward value.
We're so confident in the value we provide that we guarantee our coaching delivers results. So, if you're a child care owner looking to excel in this industry, Child Care Genius is here to help you thrive. After listening to this podcast, if you're ready to learn more or take the next step, reach out to us—we're here to guide you on your journey to child care greatness. Schedule a free strategy session here: https://childcaregenius.com/university
Mentioned in this episode:
ALEAF Insurance (Official Child Care Genius Podcast Sponsor), Specializing in child care insurance) Contact Blake Sanders for more information: (972) 866-4065, blake@aleafinsurance.com https://www.aleafinsurance.com/child-care
If you need help in your child care business, consider joining our coaching programs at Child Care Genius University. Learn More Here. https://childcaregenius.com/university