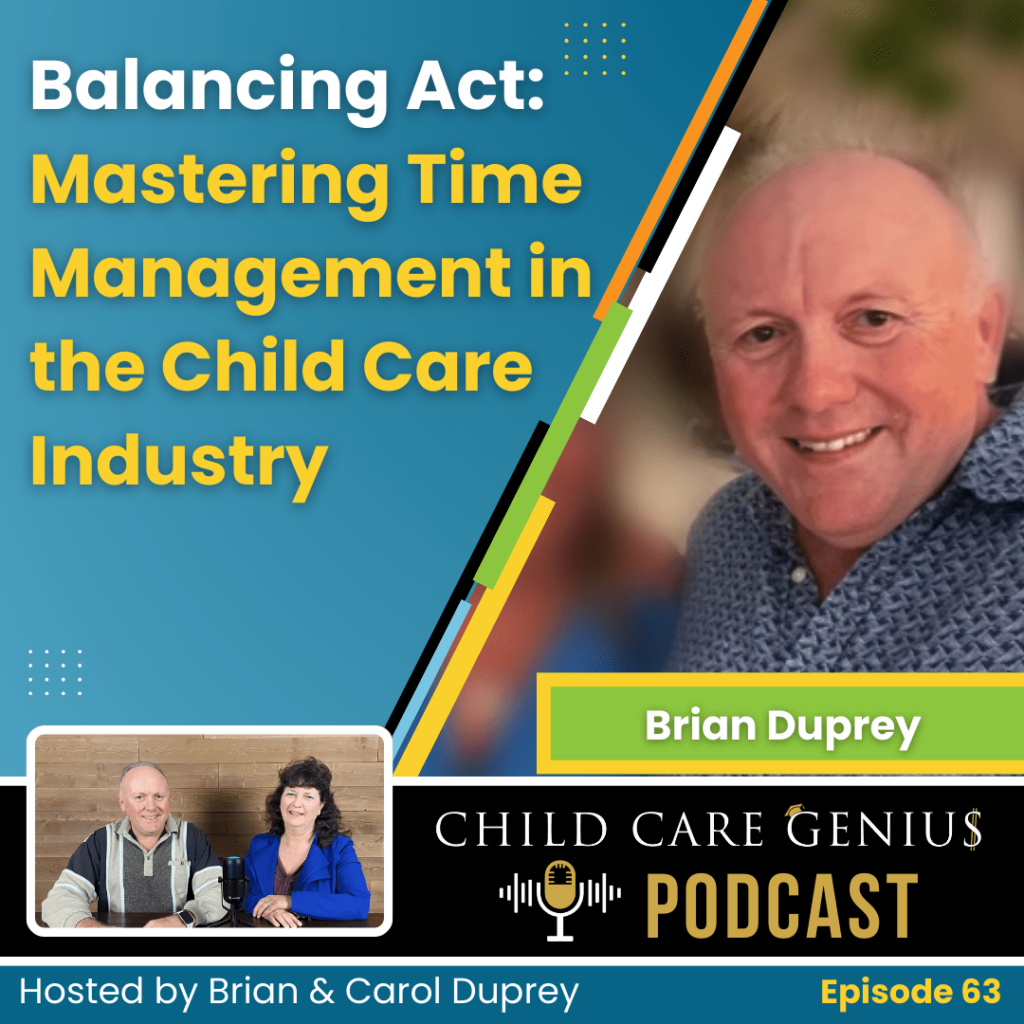 E63 Balancing Act: Mastering Time Management in the Child Care Industry with Brian Duprey
Hello, Child Care Genius community! Join me on Episode 63 of the Child Care Genius podcast; coming to you with a topic that's near and dear to my heart – time management and delegation. Today, I'm flying solo while Carol is out of town. 
In this episode, we'll dive into the intricate world of time management, a struggle faced by child care owners and directors everywhere. One of the crucial aspects I discuss is delegation. I understand that letting go of control can be daunting, but it's a game-changer.
Learning to delegate effectively not only lightens your workload but also empowers your team. I've seen child care professionals transform their centers by entrusting tasks to capable hands, allowing them to focus on what truly matters – steering their centers toward success.
 Tune in as I share practical strategies, such as implementing a stoplight approach to minimize interruptions, and reveal how taking breaks can tremendously boost productivity. These methods can revolutionize the way you manage your time, making you more productive and efficient. Remember, time is a valuable resource, and using it wisely can significantly impact your center's growth.
So if you're feeling bogged down by the endless tasks and responsibilities, know that you're not alone. Reach out, learn to delegate, and implement these time management techniques. Your journey to a more balanced and productive work life starts here. Schedule a free strategy session with me here:  https://childcaregenius.com/university
Be sure to join Carol and I on the next Child Care Genius podcast for some exciting news!
Mentioned in this episode:
ALEAF Insurance (Official Child Care Genius Podcast Sponsor), Specializing in child care insurance) Contact Blake Sanders for more information: (972) 866-4065, blake@aleafinsurance.com  https://www.aleafinsurance.com/child-care
If you need help in your child care business, consider joining our coaching programs at Child Care Genius University. Learn More Here. https://childcaregenius.com/university