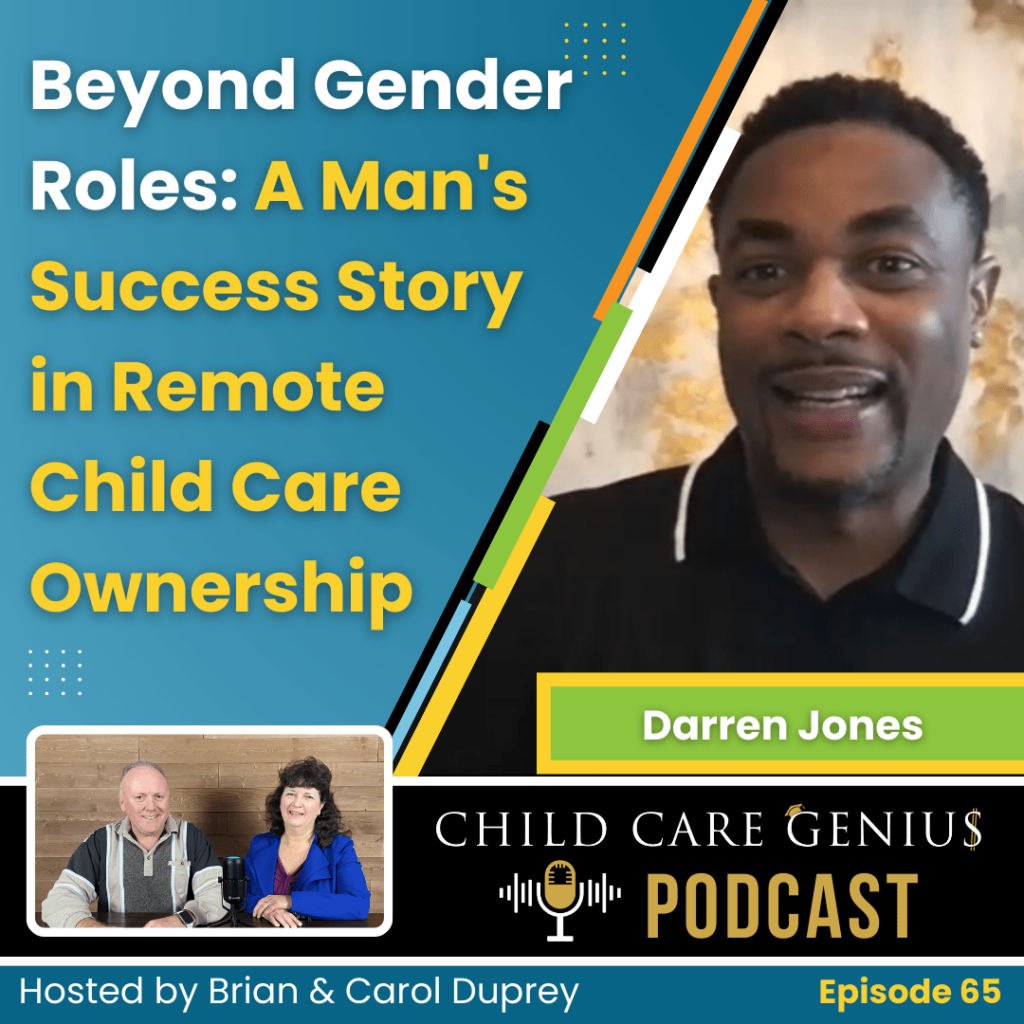 E65 Beyond Gender Roles: A Man's Success Story in Remote Child Care Ownership
Welcome to episode 65 of the Child Care Genius Podcast! This month we are spotlighting men in child care. Today, we're thrilled to introduce Darren Jones, a remarkable child care owner with a unique perspective. Darren's venture in the child care business is not only inspiring but also groundbreaking, as he navigates the field as a male owner, defying traditional gender norms.
Darren's story is a testament to his passion for early childhood education. With five child care academies in Los Angeles, he has created a safe haven for inner-city children, molding young minds and nurturing future leaders. What sets Darren apart is not just his dedication, but also the fact that he manages his centers remotely while residing in Houston, Texas. His ability to successfully run his child care business from a distance showcases his innovative approach and commitment to excellence. Darren highlights the power of a strong leadership team as the cornerstone to remote ownership.
Listen in as Darren candidly shares the challenges he faced as a male owner in a predominantly female-driven industry. He debunks stereotypes and shares heartwarming anecdotes about the profound impact he has on both children and parents. Darren's story highlights the importance of representation and how his presence in the child care field has been embraced and admired by both staff and parents alike.
Join us as we delve into Darren's journey as a male child care owner and a visionary leader. We celebrate trailblazers like Darren, redefining the narrative and making a difference in the lives of children, regardless of the preconceived gender boundaries in our industry.
Mentioned in this episode:
ALEAF Insurance (Official Child Care Genius Podcast Sponsor), Specializing in child care insurance) Contact Blake Sanders for more information: (972) 866-4065, blake@aleafinsurance.com  https://www.aleafinsurance.com/child-care
If you need help in your child care business, consider joining our coaching programs at Child Care Genius University. Learn More Here. https://childcaregenius.com/university