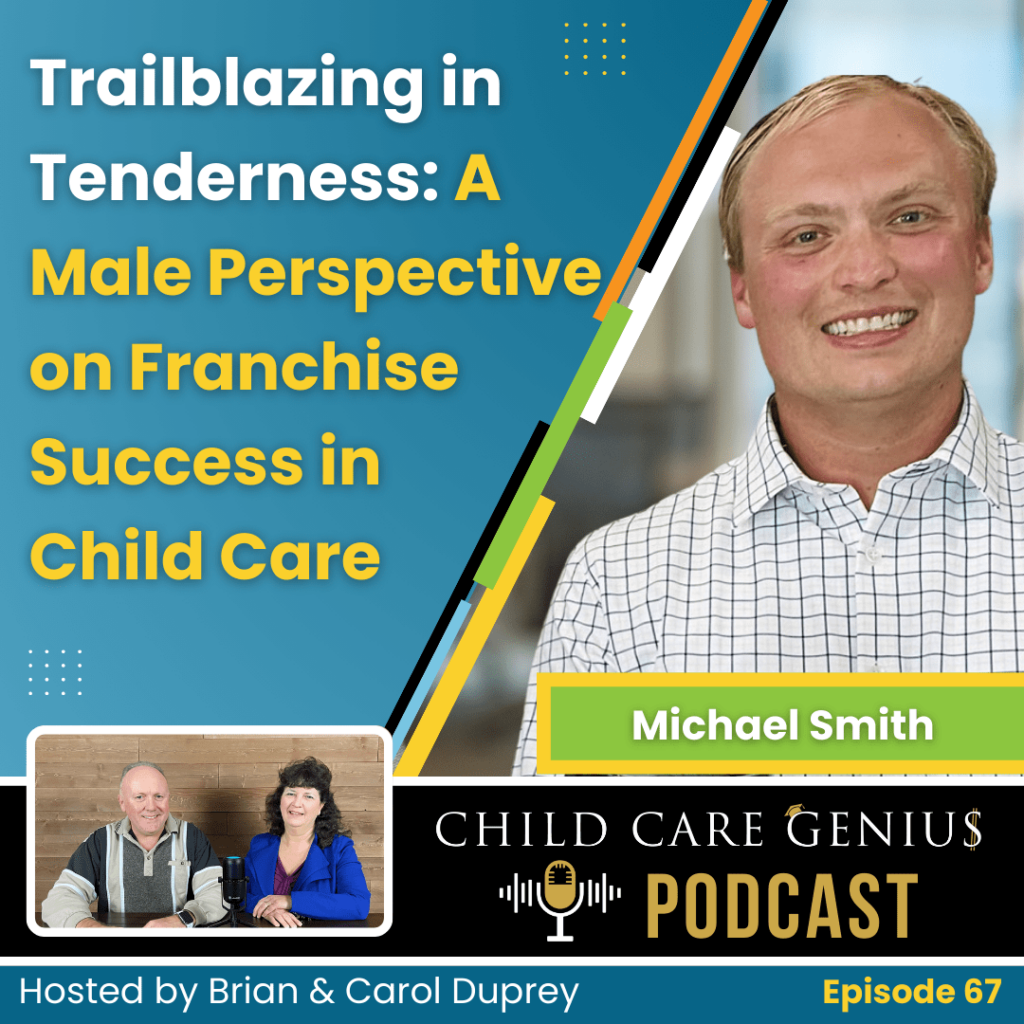 E67 Trailblazing in Tenderness: A Male Perspective on Franchise Success in Child Care
Have you ever been curious about launching a franchised child care center and how it differs from creating a business from scratch? If so, you'll definitely want to tune in to today's podcast! We're thrilled to introduce you to Michael Smith, the owner of Kids R Kids Prairie Hills in Sioux Falls, South Dakota. 
As part of our men in child care month series, we're shining a spotlight on dedicated men like Michael who are making significant strides in the child care industry.  Michael, a relative newcomer to the field, shares his heartfelt journey into child care and how an unfortunate situation led him to explore better child care options for his community. With unwavering determination, he opened a Kids R Kids franchise in Sioux Falls, bringing warmth and care to every child and family he serves. Michael explains the Kids R Kids philosophy of "hug first, then teach" which is something that he and his team proudly follow.
Listen in as Michael emphasizes the importance of building a nurturing environment while navigating the challenges of being a man in a traditionally female-dominated industry. He highlights the significance of tracking essential metrics and the transformative guidance he receives from Child Care Genius University, especially through our personalized coaching sessions.Through this experience, Michael has gained crucial insights into optimizing his business strategies, improving retention rates, and implementing effective marketing techniques.
If you're a budding entrepreneur curious about the intricacies of franchised child care, Michael's insights provide valuable takeaways. Listen in now!
To Contact Michael Smith:
https://kidsrkids.com/prairie-hills


Mentioned in this episode:
ALEAF Insurance (Official Child Care Genius Podcast Sponsor), Specializing in child care insurance) Contact Blake Sanders for more information: (972) 866-4065, blake@aleafinsurance.com  https://www.aleafinsurance.com/child-care
If you need help in your child care business, consider joining our coaching programs at Child Care Genius University. Learn More Here. https://childcaregenius.com/university