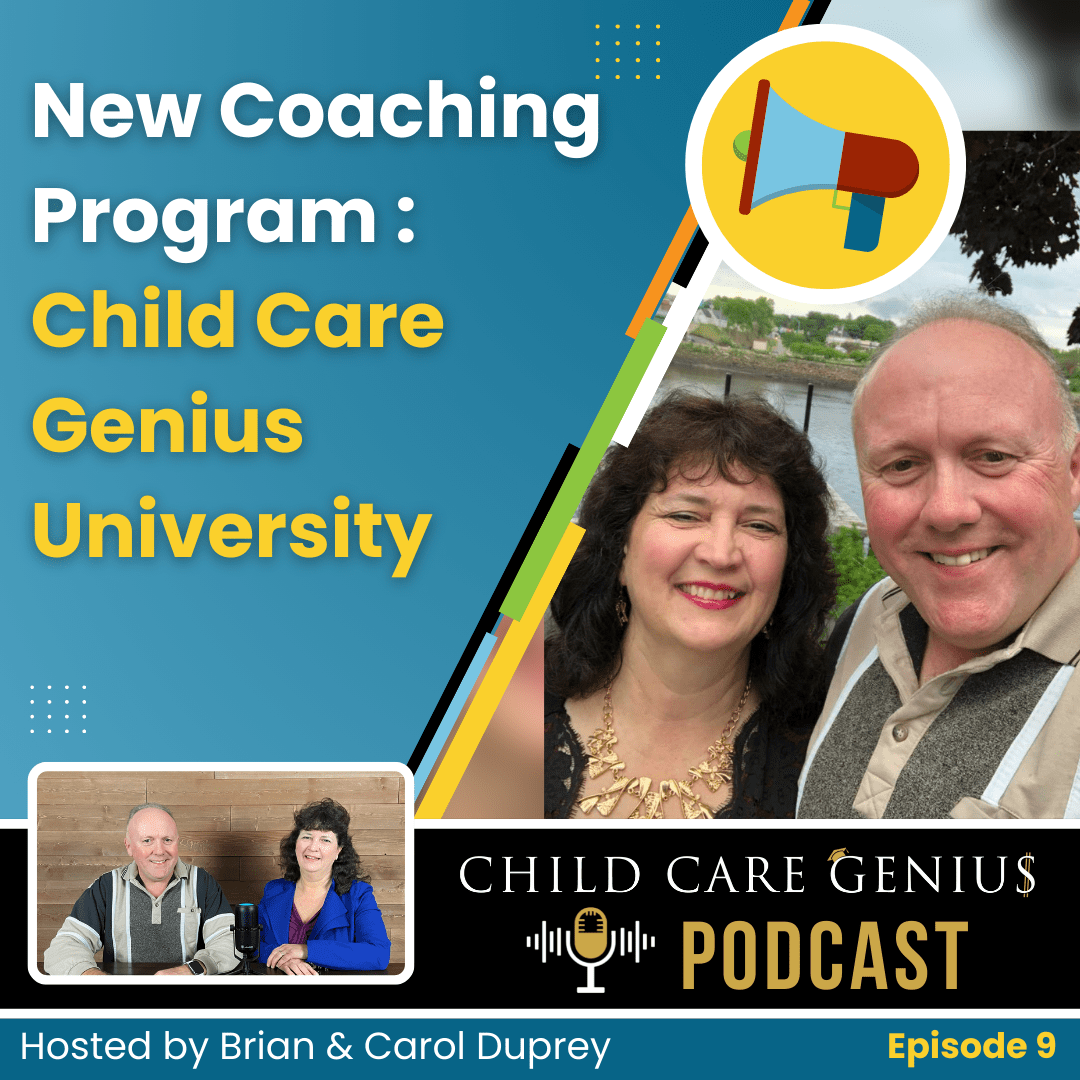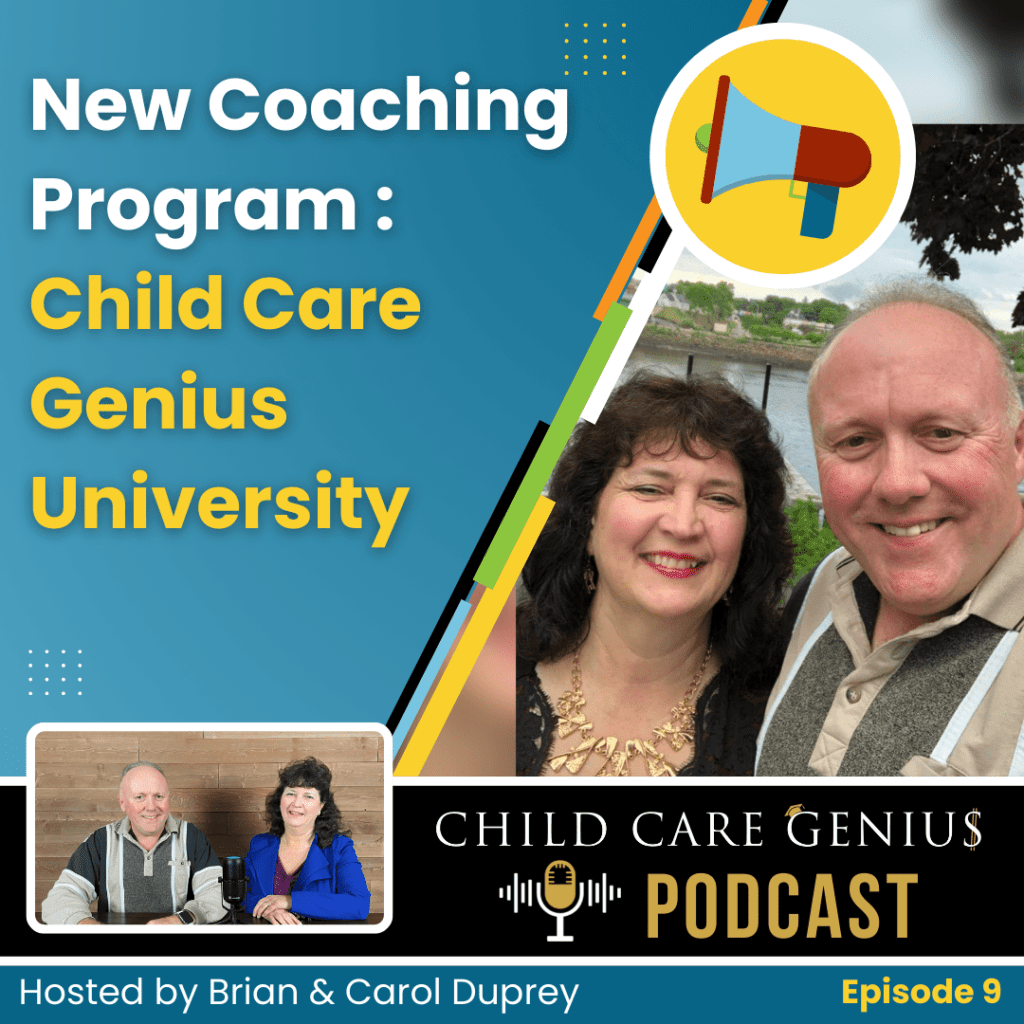 E9 - New Coaching Program: Child Care Genius University
We're so excited to announce that we will be offering child care business coaching through our brand new program, Child Care Genius University, beginning December 1st, 2022.
Child Care Genius University will be a coaching, training and leadership program unlike any on the market today.
We'd like to take a few minutes to tell you a little about it and how enrollment in the Childcare Genius University will help child care business owners. 
Child Care Genius University will cover many different topics, but a few of our specialties include the following areas:
Increased profitability. 

Decreasing your stress levels.

Enhancing your business knowledge. 

Leadership and mindset.

Team Synergy 

Expansion

Diversification.
We're going to help you increase your profits, which will help you run your business better. A lot of times people think that profit is a bad word. Well, you can't pay your employees more without increased profits. You can't expand without profits. You can't take a vacation without business profits. You can't pay down your debt. Right?. And your business is obviously worth more when you sell it, when it's more profitable.
There are a lot of benefits to increasing the profitability of your school. It's not just to put more money in your pocket, it's it's to make your business better, stronger, and to put yourself in a better cash position for expansion or growth. 
There are so many owners right now that are really stressed out. Stress about staffing levels is what we are hearing most often. We're going to help you get fully staffed. We can help you increase your profit because when when money's tight, it's stressful. One of the leading causes of business stress is lack of proper finances. So an increase in your profits is going to help decrease your stress levels. We're going to help you take that vacation that you haven't taken in years. We've got to get you to relax because you're more productive if you are in a relaxed state of mind. 
There's a reason we vacation quarterly at minimum. Quarterly is so we can have a reset in our business, our marriage, our life, just so we can learn to relax. Because running a business is stressful and we need to get that unwind. We're going to teach you how to do that. 
We'll teach you how to delegate. So you don't have so much on your plate. Right now there's so many people trying to do everything and you're working yourself to death. We're going to help you teach you the skills necessary to delegate in your business. And we're going to teach you, also, proper health and wellness techniques. If your mind is sharp and you're healthy, you're able to run your business at a much higher level.
Enhanced Business Knowledge.
We know that a lot of people who get into this profession are teachers, and they tend to not be business owners. When they start a business, they lack that business knowledge. We're going to help fill in those gaps for you and give you that business knowledge. We're going to help you navigate a balance sheet, and teach you what goes into a profit and loss statement. It's not just income minus expenses. There's a lot more detail to that. We're going to teach on that and we're going to help you put together a personal financial statement. And that's something a bank will want, as well, when you go into for business credit or to expand your business location. 
We're also going to give everybody in our university a plan to become debt free at some point in the future. When we became debt free, it was just an amazing feeling. And we're going to help you get a plan to become debt free in the next two years, five years, ten years. We've done it with many people before and we will help you put together a plan.
This is something Carol and I specialize in teaching. We both have military backgrounds, so leadership is something that the military trained us both on. It's something that people are not born with. You are not born as a natural leader. It's developed, it's trained. It's something that directors and teachers aren't normally trained on, but it's something that we will train on in our university.
We'll help you with leadership. We'll help you become a better manager, will help your teachers become better classroom managers, will give them leadership techniques as well. 
And mindset is another important thing that we've been teaching on. We have been mindset coaches for many years, and if we can help improve the mindset of the entire team, the whole team grows. Happy teachers, happy owners.
We want to help your team learn to work together. Synergy is a word I like to use when everybody's working together for a common purpose and a common goal. We're going to do core values exercises and help everybody start working as a team. The more team synergy a team has, the less turnover as well.
Sharing about expansion is going to be a big topic in the higher levels of the University. These trainings are optional, but we are expansion specialists so we'd like to share our expertise to help your business grow. We've opened ten schools ourselves and we've helped hundreds of clients open new schools. We'll help you find a location, discuss leasing versus owning, and how to get financing.
We're talking about diversifying your financial portfolio, meaning that right now, if you have one school, you're putting your all your financial eggs in that one basket. We'll teach you how to spread your risk through multiple locations and also through other businesses.
What we've done personally is diversify through real estate. We have 27 rental units right now, both commercially and residentially. We use those properties to lower our tax burden. We use those to hedge our risk in our business, and we use that for amazing passive income. We're going to show you how to do that and create generational wealth. Nobody else is teaching this stuff. We think it's very important for you to learn that.
We are excited to share with you a little bit about some of what we will cover in the Child Care Genius University.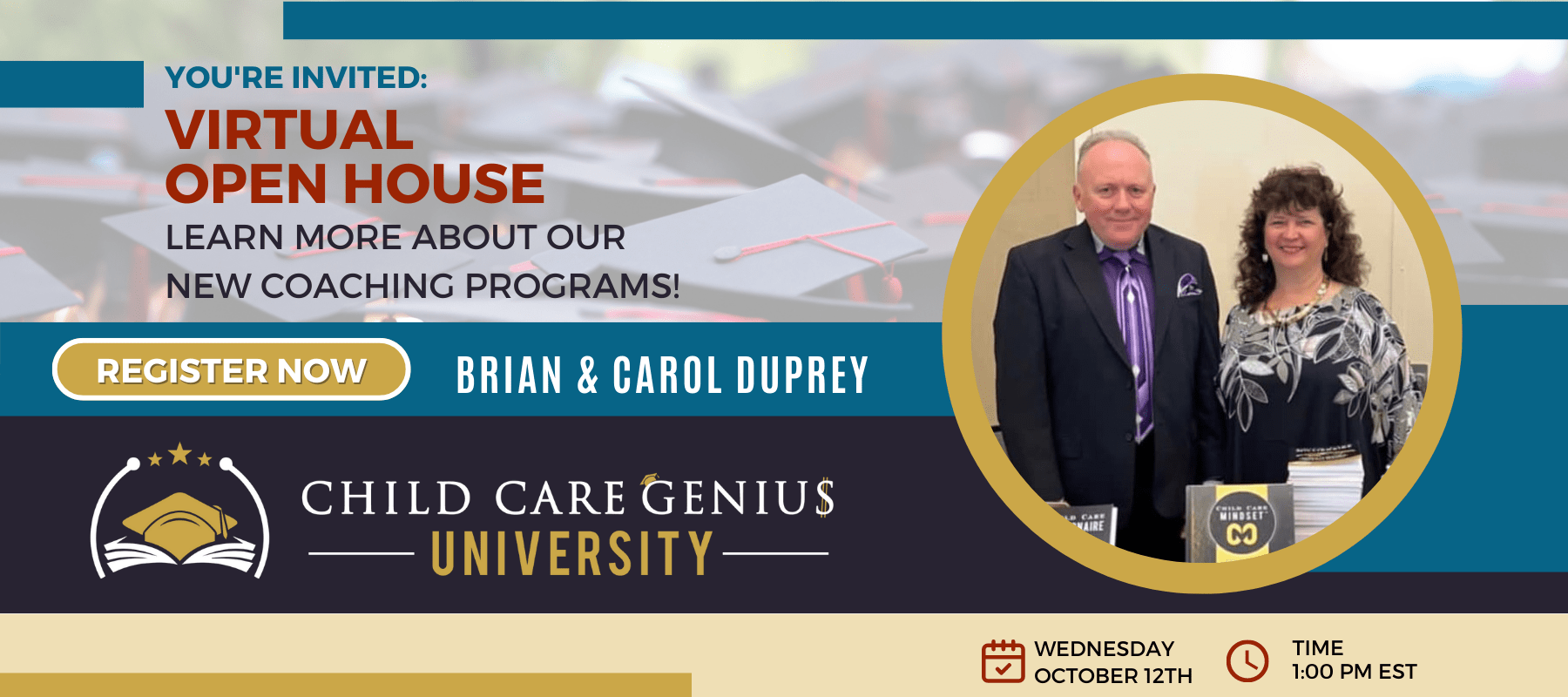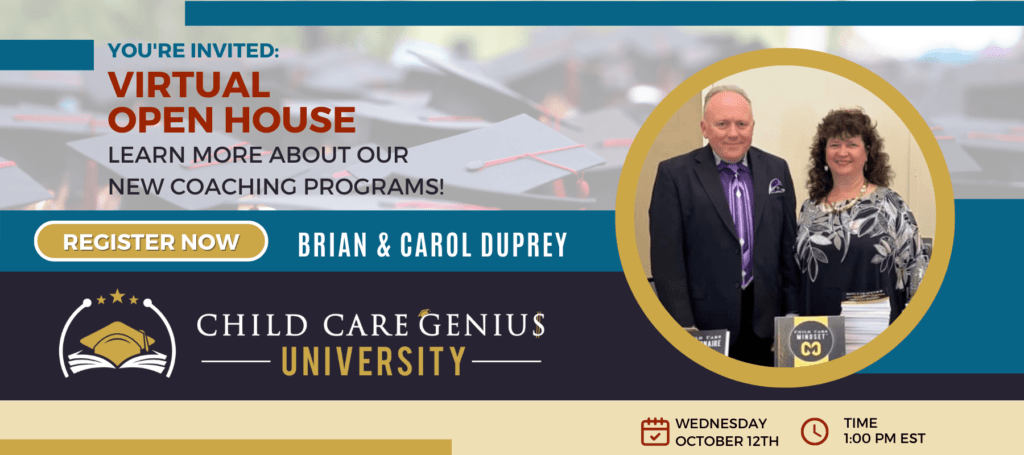 You are invited to a free Virtual Open House on Oct 12th, 2022 at 1pm EST (Replay will be available) to learn more about this new coaching program and how you can get involved.
Our video shares a little bit about the levels of the program, aimed to serve businesses of all sizes – from home child care programs through multi-site businesses. Have a listen, then plan on joining us to learn more during our Virtual Open House (or catch the replay).
Mentioned in this episode:
ALEAF Insurance (Official Child Care Genius Podcast Sponsor), Specializing in child care insurance) Contact Blake Sanders for more information: (972) 866-4065, blake@aleafinsurance.com
Sign up to attend our free Virtual Open House to learn more about Child Care Genius University (or catch the replay) https://childcaregenius.com/masterclass-10-12-22-child-care-genius-university-virtual-open-house-register/
Register for a Free Coaching Call https://childcaregenius.com/coaching/