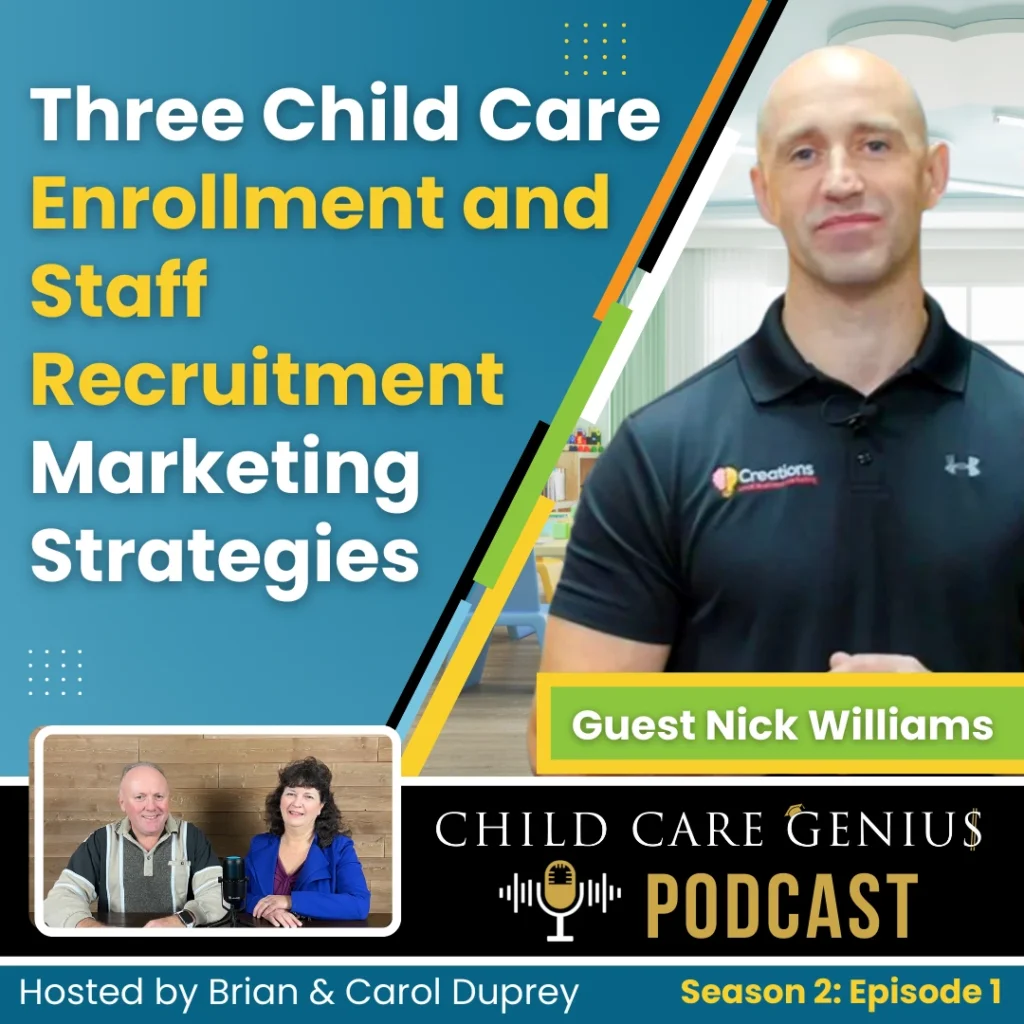 S2 E1 Child Care Enrollment and Staff Recruitment Marketing Strategies
Are you looking for ideas to recruit more staff and enroll more children? You'll want to listen to this podcast. Marketing expert and founder of Child Care Business Growth, Nick Williams, joins us on the podcast to bring us the latest marketing strategies of what's working NOW.  
Nick shares his top three strategies to attract more staff and students to your program, and outlines the biggest mistake most child care business owners make when marketing.
When you tune in, you'll learn:
The best way to

compete with large franchises

with big budgets

How to

stop relying on word of mout

h to grow your business

How to share your story in a way that will

connect with your ideal prospects

and attract them to your school

Strategies to

position yourself as the expert

in your community

How to get your team to become your

biggest marketing partners

, and WHY you should use this

one key strategy

to do so.
Tune in to hear the answer to this week's listener question:  
Dear Brian and Carol, I am a new school trying to build enrollment. Where's the best place for me to advertise to get new students? -Gabrielle, South Dakota
(Expert guest Nick Williams answered this question live on the podcast, and you don't want to miss his answer including the two best ways to market your child care business.  )
If you'd like to connect with Nick visit ChildcareBusinessGrowth.com to learn more. They help child care business owners with marketing, video production, websites, backend automation, and staff recruitment.
You can get tickets to the upcoming Child Care Business Growth Live 2022 Conference HERE!
Plan to come to spend 2 days working on your business vs working in your business. This conference is purely informational, no pitches or offers. We will be focusing on marketing, staff recruitment, mindset, growth, staff culture, and more