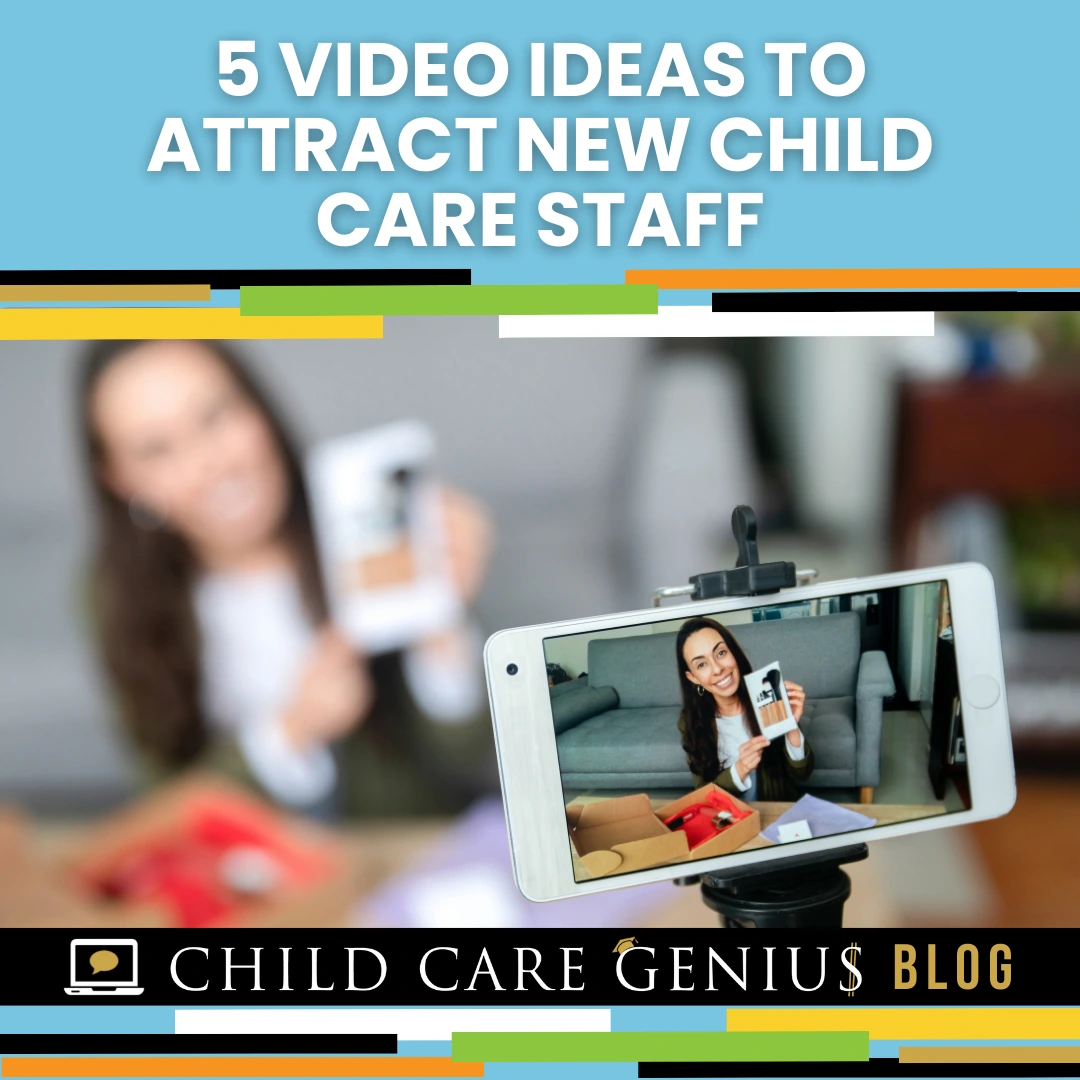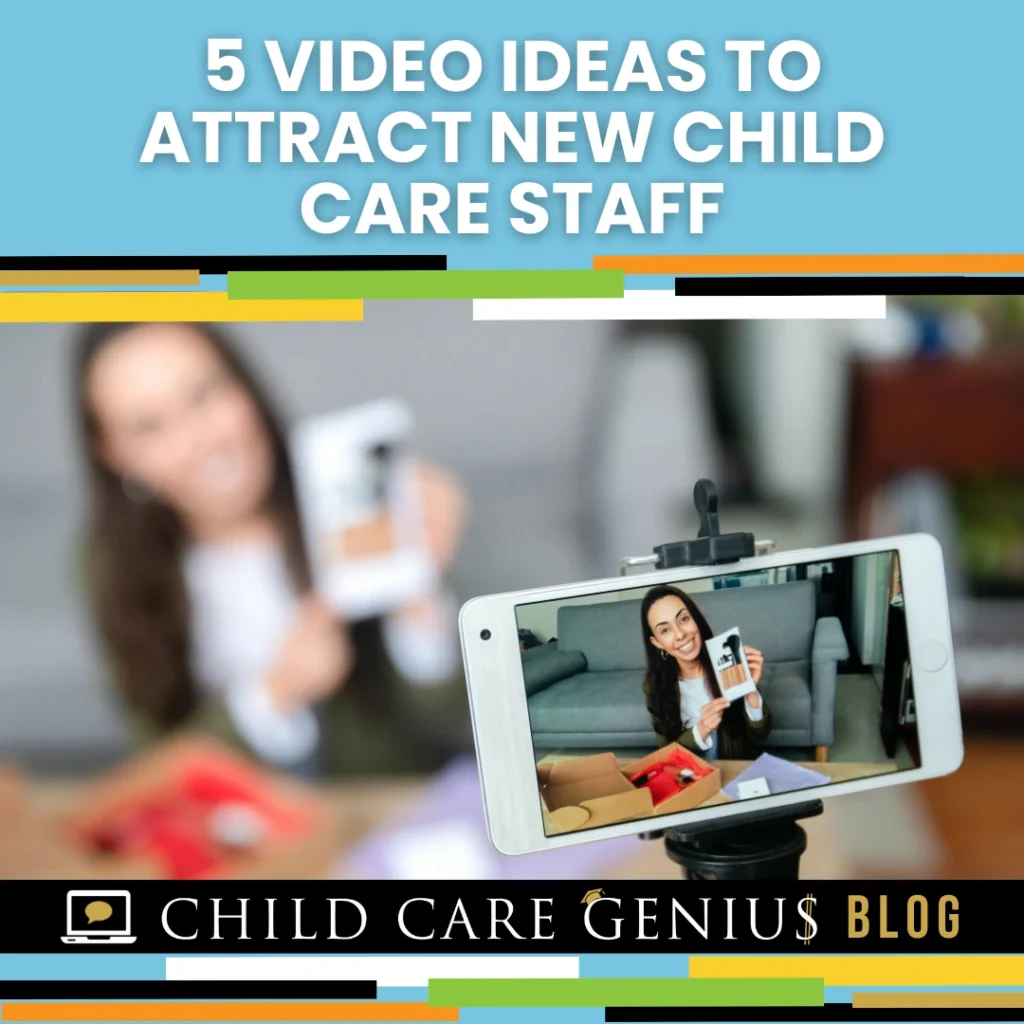 5 Video Ideas to Attract New Child Care Staff
The competition to attract new childcare staff is at an all-time high. Programs that are looking for new teachers and caregivers need to do all they can to stand out to catch the attention of job seekers. 
Video marketing is one of the best ways to do this. Creating videos is especially powerful because it helps you to create an emotional connection and build trust before you ever meet your potential candidate. 
Video has a way of showcasing your personality and authenticity like no other form of media.
Plus, Google, Facebook, and other social media LOVE it when you use videos because they increase the time users spend on their sites.
Here are a few fresh angles you can take to record a few videos to help attract amazing teachers and caregivers to your early learning program. 
Creating a variety of hiring videos from a few different angles will help you to find and appeal to different people. A video that catches the attention of one person might not appeal to another. Get creative and cast a wider net with several types of "bait."
This one is so simple – frame your mind as though you are speaking directly to your ideal childcare staff and invite them to apply. It might seem silly to point out that you need to invite people to apply for your open jobs, but people can be shy. They don't like to put themselves "out there" unless they are sure they are wanted. When inviting them to apply, share a little bit about your mission and core values so you align with more than just their checking account. Talk about the type of person THEY are and the qualities that they already possess to help them self-identify as an ideal candidate for your open positions. 
Get your team involved and create a video from the perspective of a couple of your teachers. Ask them to talk about WHY they love to work for your program or to share their favorite "making a difference" story. Have them invite new childcare staff to apply. When a potential job seeker can see that current employees enjoy working there, they will be more likely to want to join the  happy team. You can tell them that your employees love their jobs until you are blue in the face, but it will never resonate the same way as an actual employee saying it from their own mouths.
While we hope that your new hires will be interested in your open job for reasons that go deeper than wages and benefits, the truth is that people work because they need to pay their bills. The practical side of things makes a difference when it comes to deciding which job a person will take. So, make a video that shares all the benefits and perks of working at your school. Not all of these need to be monetary. For instance, talk about your above-average starting wage, sign-on bonus, PTO, paid birthdays off, and childcare staff discount. But also mention less tangible things like continuing education, monthly after-hours group outings, meals/snacks provided, comfy teacher's lounge, fun staff contests, flexible scheduling, planning time, wellness programs, and the like. Knowing that they will be paid competitively PLUS get to enjoy several perks can go a long way to winning over a potential job candidate.
Give your curious job seekers a sneak peek behind the scenes with the childcare staff at your school. Make a video with clips showing teachers collaborating with each other on lesson plans, relaxing or enjoying their break in your awesome staff lounge, what it takes to prepare 150+ lunches in your kitchen every day, making decorations for a special event, or silly moments at a staff meeting. Any glimpse you can give into the culture and not-so-obvious parts of the job will catch the attention of interested parties. Do what you can to make them feel like they are already a part of your team.
This angle might seem obvious, but it's still worth highlighting. Make a video that emphasizes the difference they will get to make in the lives of the children and families you serve. So many people want to be a part of a cause bigger than themselves. When people feel like they are doing something that makes an impact, that it is more than "just a job," they typically feel more fulfilled. Appeal to these ideal caregivers with a video that reminds them of the difference they will get to make when they join your team. A few popular angles have been to equate teachers to superheroes, or highlighting that they've always been essential. Or, if you have a particular story of how your school helped one particular student or family, share it (with their permission, of course.) 
Once you have a few videos you can use, SHARE THEM EVERYWHERE. Do whatever you can to get the word out and get noticed. The best ways to do this are:
Post.
Use a variety of platforms or sites and post your videos wherever you can. Social media, your website, YouTube, add links to your Indeed ads. Get them out there and encourage people to share them.
Pay.
Posting them will not be enough. In most cases, you will need to pay to play. Set a budget and spend a few bucks on Google and Facebook Ads. If you are overwhelmed with the technical aspects of running ads like this and targeting the right kind of audience, hire a freelancer from upwork or fiverr.
Ask.
Tell the people in your circle that you are hiring and ask them to share your posts and videos when they see them. Ask your staff and current enrolled families to share and refer potential candidates to you. Consider offering them a finders fee or financial incentive to share your ads or refer potential employees to you. The point is that you need to do more than just post & pay. Actually talk to the people in your network and ask them to help you out by spreading the word.
Good luck on creating a few creative hiring videos that get noticed online!
If you have any other video angles that have worked for you, please share them in the comments below.