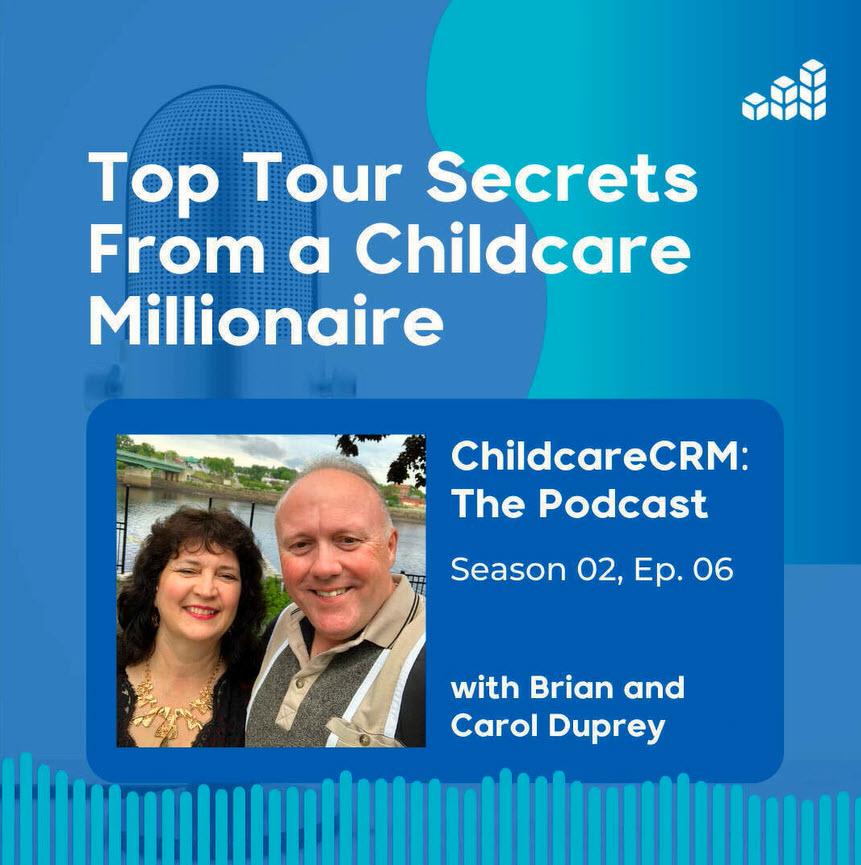 Brian & Carol Featured on the ChildCareCRM Podcast
We are so excited to share that we were recently featured on the ChildCareCRM Podcast. 
If you missed the episode, tune in now to hear amazing tips for how to run your child care business and how to become a child care millionaire yourself.
When I wrote my first book, Child Care Millionaire: Secrets to Building a Profitable 7 or 8 Figure Child Care Business, I wanted to help give people the business skills they need to help them run their child care business and avoid all the costly mistakes that Carol and I had to learn the hard way.
Our latest book, Child Care Millionaire Tour Secrets: Tactics, Tips & Tools to Increase Tour and Conversions at Your Child Care Center, was written with a similar motivation. We want to help you train your team to conduct tours that set you apart from the competition and result in more enrollments.
On this podcast we discuss several tips and tactics that will help you and your team convert more tours. Tune in to listen to us discuss tour stops, the importance of a checklist, how to mystery shop your own school as well as your competitors, how your teachers impact enrollment, how to know if you have the right person doing a tour (and what to do if you don't), how to communicate your COVID and Health & Safety policies to set parents minds at ease, and Brian's #1 tip for giving a better tour.
There is so much packed into this podcast, you won't want to miss it!
Click to Watch The ChildCareCRM Podcast: