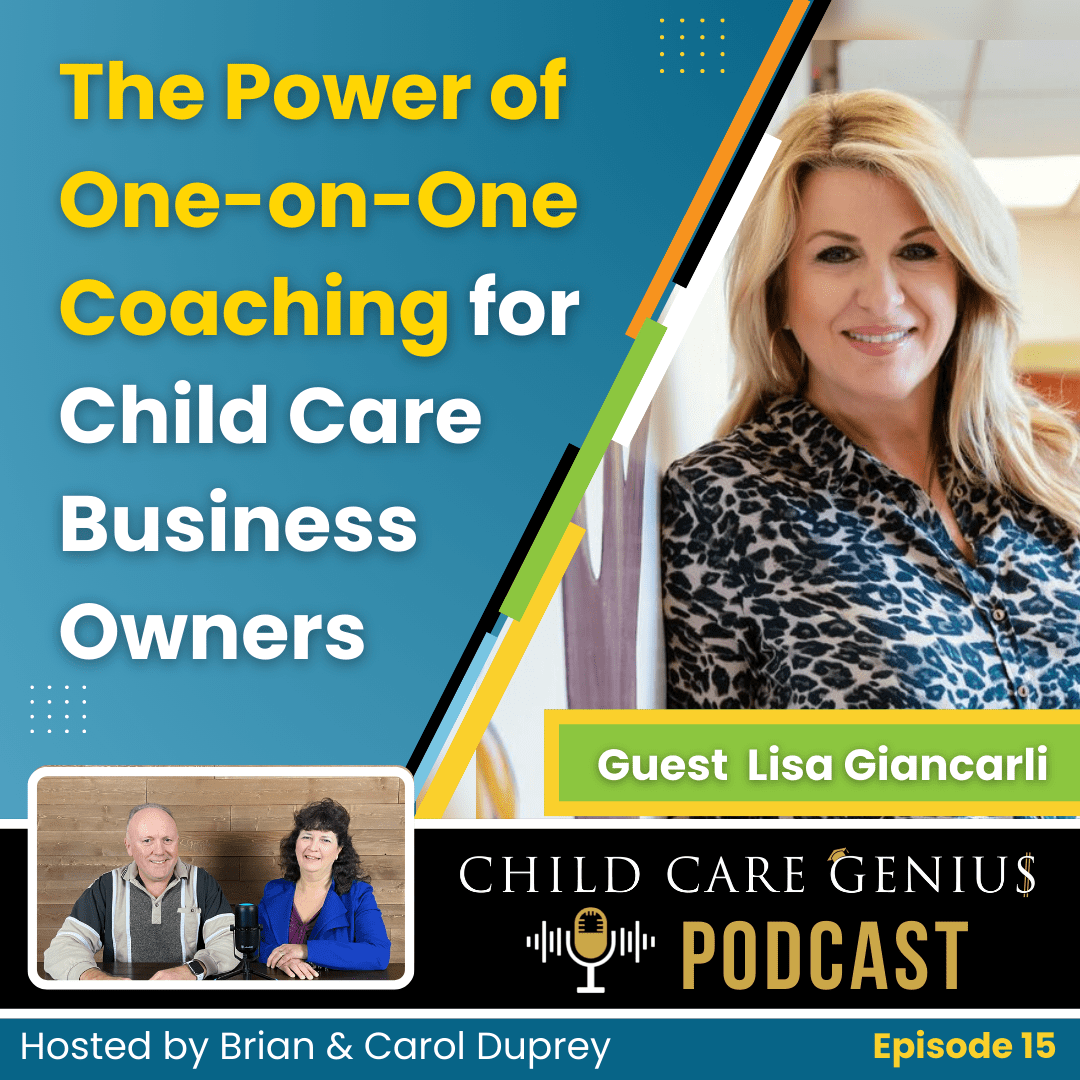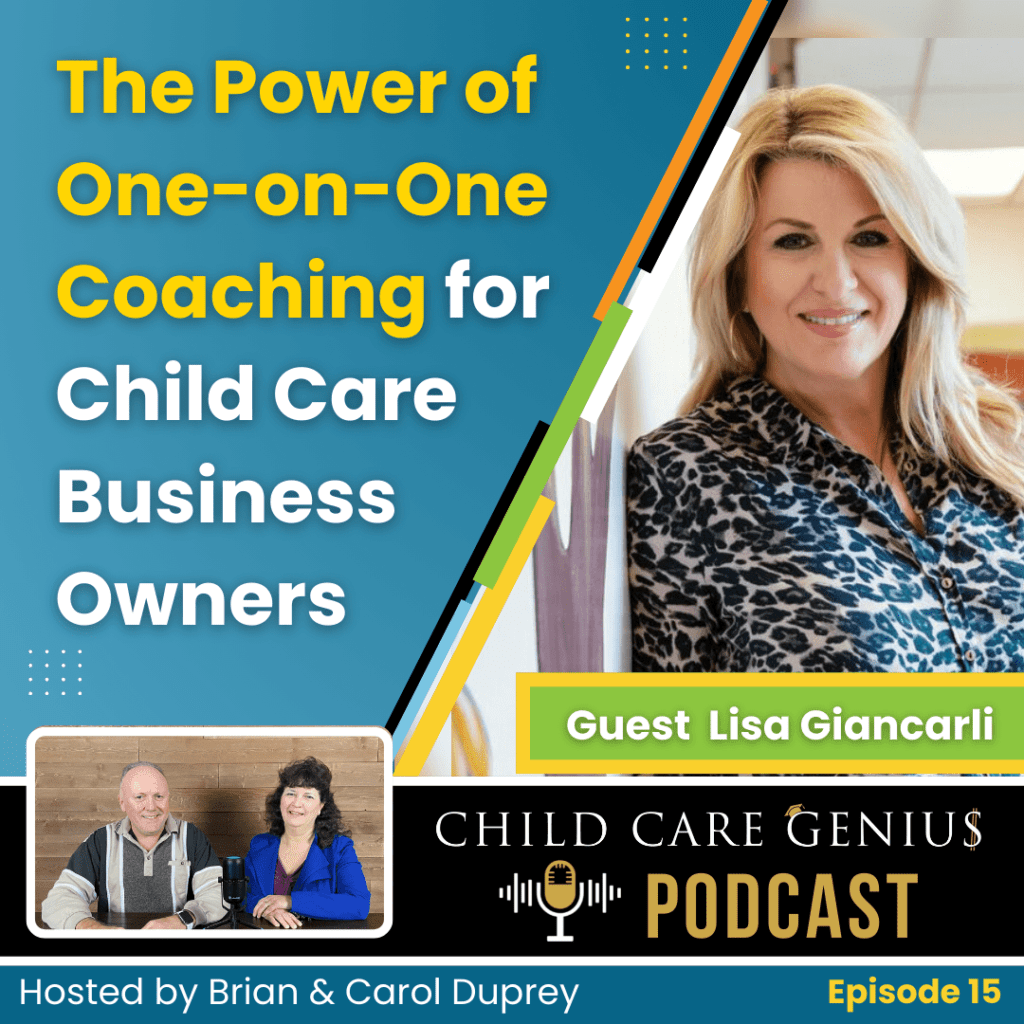 E15 - The Power of One-On-One Coaching for Child Care Business Owners with Lisa Giancarli
Have you ever thought about working with a child care coach but weren't sure if your business could afford it? Our guest Lisa Giancarli spotlights this topic and how invaluable a coach can be to facilitating a successful child care business. 
Lisa shares her unique backstory that led her into the child care field and the challenges she faced while learning the ins and outs of the child care business that she and her husband stumbled into.
Searching for answers to successfully run her business led Lisa to join a coaching program. Lisa expressed that to work with a coach "feels like you go into a partnership…with someone that has had success." "They're helping you identify your problems, helping you take action and see the results."  Lisa shared the positive impact coaching had on her as she navigated leading her child care team. Coaching helped her take an honest look at herself and helped keep her accountable.  
Child care owners are often trying to balance many spinning plates at the same time. It's easy to lose sight of different dynamics. Coaching can help owners look at "everything". "What's going right?" and "what's going wrong?" are equally important. 
Lisa believes in "working on your business not in your business". It can be a difficult transition from a director to an owner. "A good coach does help you take a step back and look at the school as a whole."
What is the power of one-on-one coaching? Coaches get to know you and your business more intimately. The time spent with a coach is quality time; where specific areas of concern can be addressed.  
Lisa estimates that one-on-one coaching is the "best money I've spent in my business life." "It's a personal journey, not just for your business. Coaching can change your mindset."  Coaching is an investment in your child care business. Lisa affirms, "it's an investment. Not only an investment in your business, it's an investment in you."
As a Child Care Genius University professor, Lisa can't wait to help other child care owners experience greater success with their businesses. 
If you need help in your child care business, consider joining our coaching programs at Child Care Genius University. Learn More Here. https://childcaregenius.com/university
More About Lisa Giancarli:
I have over 10 years of experience successfully owning and operating a large childcare center in central NJ.  I attribute my success to having a growth mindset as well as continuing to surround myself with the right people to get me there.  Having been involved in a coaching program over the past several years has allowed me to grow my business exponentially year after year. Additionally, the impact of coaching enabled me to remain open and excel my business operations during the pandemic.    
I have a passion for people and I strive to have a positive impact on them.  My personal mission is to share my knowledge and experience so we all can grow together while having a little fun along the way. 
I am a born and raised "Jersey Girl" who married her high school sweetheart, Joe, a real estate developer.  We have 2 grown children, Daniella and Rocco, and 2 adorable fur babies, Max and Bellini.  My motto is to work hard, play harder and laugh a lot.  I enjoy cooking and entertaining, studying Italian, reading a good book on the beach, and most of all traveling the world.
https://childcaregenius.com/lisa-giancarli/
To contact Lisa Giancarli:
lisa@childcaregenius.com
Mentioned in this episode:
ALEAF Insurance (Official Child Care Genius Podcast Sponsor), Specializing in child care insurance) Contact Blake Sanders for more information: (972) 866-4065, blake@aleafinsurance.com  
Learn more about our coaching programs in Child Care Genius University.
Advanced Child Care Business Strategies: Secrets to Profitability, Expansion, and Wealth Creation