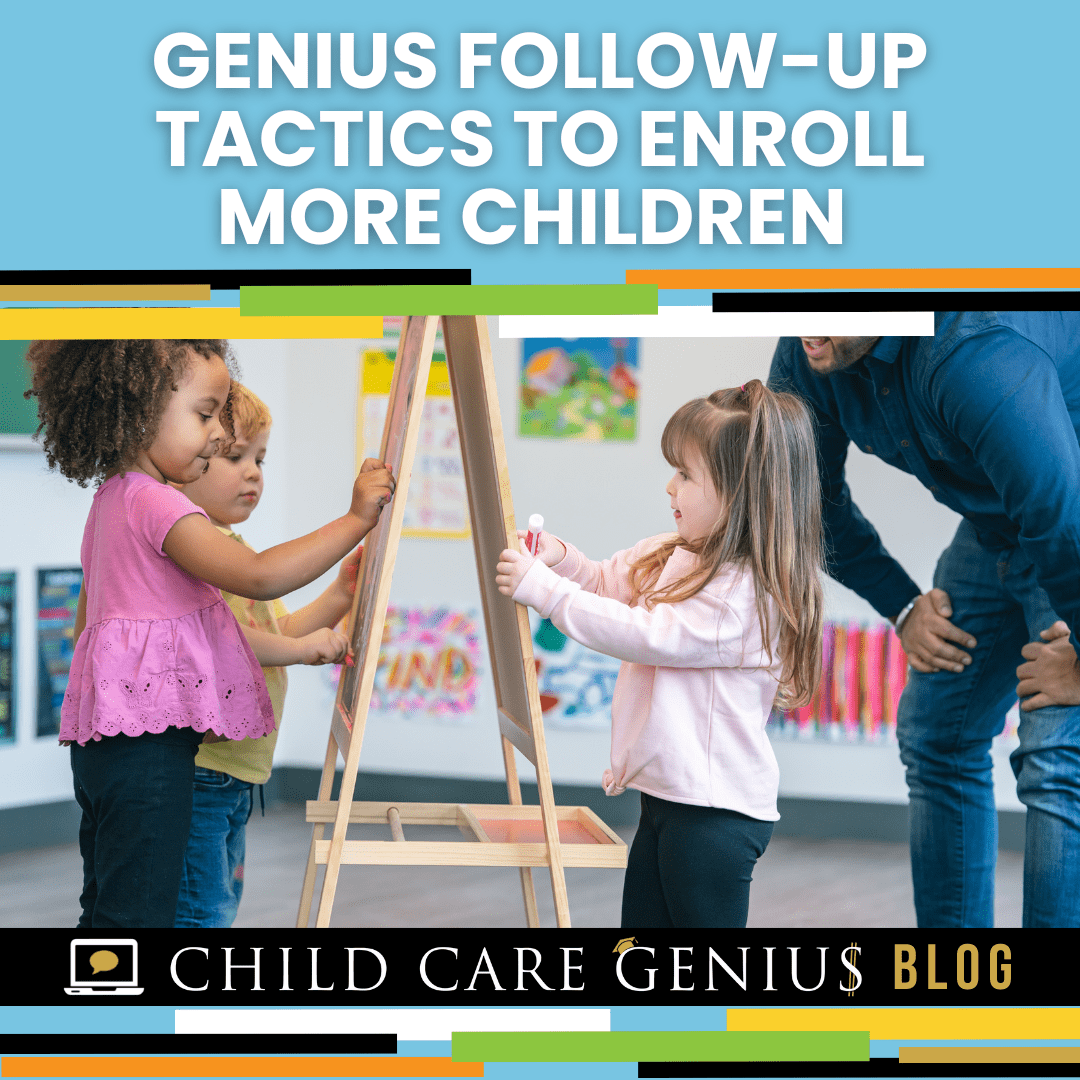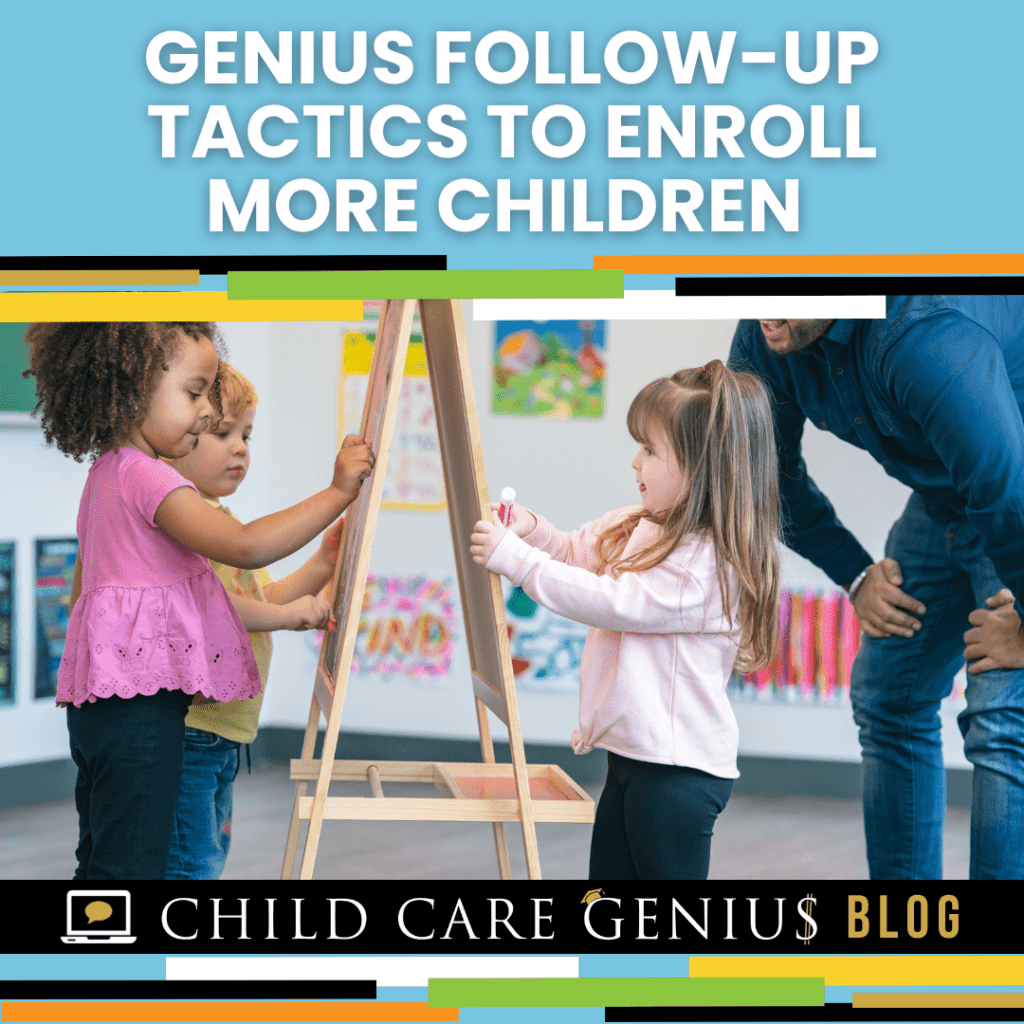 Genius Follow-Up Tactics to Enroll More Children in Your Early Learning Program
What we are about to tell you could completely fill every empty space in your school. It could, in fact, be the number one marketing strategy of all time. Yet so many businesses ignore this simple step when it comes to enrolling families.
Imagine little Chelsea's parents just finished a tour of your school. Everything about your tour went perfectly, starting with the phone call.
Your director built rapport with the family and scheduled the tour.
Your team completed a curb-appeal tour checklist and made sure everything was in tip-top shape before they arrived.
Your facility was clean and smelled fresh.
Giggles, songs, and other happy sounds could be heard filtering into the hallways from the classrooms.
Your enrollment packet was ready and you were prepared with a clean, comfortable space to meet with the parents.
During the tour, your teachers engaged with the family, and you had a chance to highlight several of your unique features along the way.
It seems it couldn't have gone better.
Yet the family wasn't quite ready to take the plunge.
There are several reasons a family might be hesitant to enroll on the spot.
Many times, experienced directors or enrollment specialists are able to work through a family's uncertainties (questions, objections, concerns) so they are comfortable with registering before they leave the tour appointment.
Other times families want to take a more cautious approach.
In this case, being first-time parents, the couple felt they needed to be extra diligent and visit every program in the area to make sure they were choosing the perfect ECE program for their little sweetie.
In a situation like this, high-pressure tactics will not work. After trying to alleviate any known concerns with the family, if you see that they would still rather wait, it's best to honor the family's intention of diligent research and implement your thoughtful and thorough follow-up plan.
They say "The fortune is in the follow-up," and while we wish we weren't using such an overused cliche here, we acknowledge that it is 100% true.
So many times business owners give full attention to a potential enrollment (sale) when it is right in front of them, staring them in the face. But as soon as the "target" is out of sight, they are also out of mind.
They go about their daily routine and forget about that possible enrollment.
This is a major mistake that can cost you thousands of dollars!
The family you may have just toured is definitely interested in your service otherwise they wouldn't have called or stopped by.
They are just in the process of making a decision about which program to choose and when to do it.
They might need a little time to make the final decision, but they are actively trying to make it.
If you believe you have a great program to offer, help your prospective family say yes to you!
People get busy and forget to return a call or reply to an email. They often welcome the fact that somebody called them to follow up. They WANT the service, they just needed a little help to make the final call.
After all, how many times have you called around to get information about a service and ended up booking an appointment with the business that returned your call?
The important thing is to make each interaction with the family feel like you genuinely care and are helping them or giving them value.
Here are a few GENIUS Follow-Up Tactics to help you gain more enrollments in your child care center.
Follow-up with a "thank you for visiting" email that includes a recap of the visit or things you discussed.
For efficiency, you should have a template saved so you aren't reinventing the wheel every time you correspond with a new family, BUT you should take the time to personalize your message each time.
Mention something unique or specific that transpired during the tour or call. For instance, send along the contact info to the children's dance studio that you discussed, or congratulate them on the new job that caused them to start looking for child care in the first place.
If you can customize your message with personal messages it will help you to build a connection with the family.
Send a hand-written thank you note.
In our age of technology where every communication we have with other human beings is almost instantaneous, this one might seem a little outdated, but I assure you it is not. It's actually a novelty to receive an actual piece of mail and it is something that will be remembered far more than an email or text message. If the family has indicated that they will be taking several days to get back to you, there should be time to pop a card in the mail to make a memorable impression. Even if there's not enough time before you expect to hear back from them, send a card. If they chose your program, it will reinforce that they made the right decision when they receive it. If they didn't choose your school, when their needs change in the future, they will be sure to remember the extra effort you put into winning them over.
Send a gift to the child by mail or "special delivery."
Hopefully, you are in the practice of giving a gift to the families that tour your center while they are visiting. A goodie bag with a few logoed items can make quite the impression on a visiting family.
Take this a step further and send a second gift addressed directly to the child immediately after the tour. Children's books, a t-shirt or ball cap (for summer camp), a bib or onesie, or a tote bag all work really well to quickly pop in the mail. Include a note about being excited or hopeful to have the child join your program.
You could even go above and beyond and hand-deliver this gift to the home mailbox or parent's workplace (just drop it at the front desk, don't make it awkward.) That way you are not dependent on the mail carrier being timely in the delivery.
In a world where everyone is trying to get noticed, it's imperative to do what you can to stand out. A gift specifically for the child will definitely be noticed.
This one should be a no-brainer. The simplest, most direct way to follow up with anybody is with a phone call (or text message). Yet, many directors and enrollment specialists shy away from doing this for two main reasons:
1) they forget or don't have a system to remind them to follow up
OR
2) they feel pushy by making the extra effort to connect again by phone.
First of all, if you don't have a CRM system in place to help you remember to follow up with your prospects, you need to get one in place. Even if it's as simple as placing a sticky note on your calendar to remind you to make the call – you need a system! (We recommend ChildcareCRM: Check them out here!)
But if you are avoiding follow-up calls because you feel pushy or salesy, it's time to reframe your thoughts about this.
Of course, you don't want to bombard the family with hourly calls or leave them a dozen voicemails. But a few follow-up calls (if you don't reach them the first time) are prudent and would likely be appreciated!
Enter them into your automated email drip campaign.
Set up a series of emails that can be sent to your prospects after they tour to highlights different aspects of your program.
Showcase case studies of families that have had success with your school, include lots of pics of kids and teachers having fun, tell your story. Share all the good and happy reasons families choose your program in bite-sized little chunks.
Stay in front of them so they are reminded to get back with you and get the ball rolling on enrolling their child.
This is an advanced technique, but it is possible to serve ads (on social media and google, etc) to people that have toured your school, visited your website, OR even to those who have visited your competitors through a technique called retargeting.
This requires set-up in advance and a bit of techy know-how, but it's highly effective. If you feel ambitious you can train yourself in retargeting through online videos, or BETTER YET, hire an expert to set this up for you. It's easy to find freelancers that already specialize in this skill and can quickly get you set up to retarget prospects.
In general, we are bombarded with marketing messages on a daily basis. As a rule of thumb, it will take your prospect around 14 times of seeing your ad or getting a message from you before they take action themselves and respond.
Do whatever you can to get in front of them to help them say yes to enrolling at your school sooner.
Keep in touch by sending NEW special offers and invites to events later.
If your prospective family doesn't end up enrolling, be sure to keep them on your newsletter list (until they opt out). Send them monthly newsletters, special offers, and invite them to events that you might be hosting. You never know…. When the time is right, they may end up enrolling with you later because you kept in touch. They may also share your information with friends or family that may be interested in your services.
There are many other creative ways you can follow up with families that are memorable and will get you noticed. We hope this list gives you a few ideas and sparks some creativity for more tactics that can help you win over families during the follow-up process. If you've tried something that has worked well, comment below. Our readers would love to model your winning ideas!