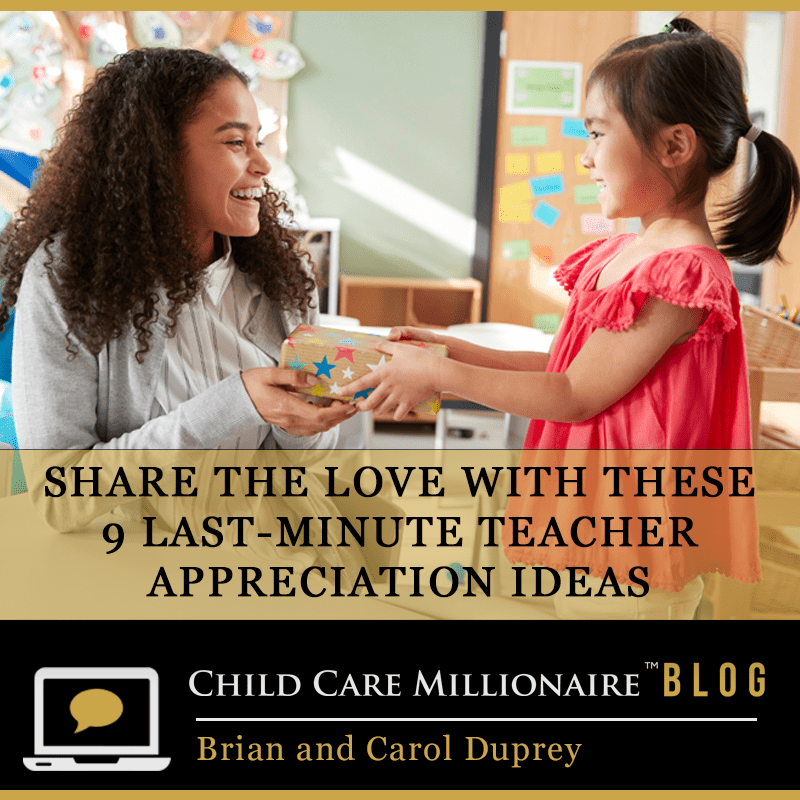 Share the Love with These 9 Last-Minute Teacher Appreciation Ideas
Teacher Appreciation Week is right around the corner (the first week of May) and we present you these 9 Teacher Appreciation Ideas that you can try. We hope you have been putting some thought into your plans to spoil your teachers. When your team feels appreciated they will go above and beyond for you. Plus, they truly are AWESOME people, caring for and educating the next generation. They deserve some recognition.
If this week snuck up on you, and you don't have much planned yet, we wanted to provide you with a few ideas that you can throw together fairly quickly to make sure Teacher Appreciation Week at your school is still the BEST EVER!
One good Teacher Appreciation Ideas is Food and Love. Who doesn't LOVE a free lunch? Show your team that you appreciate them with some special meals and snacks during Teacher Appreciation Week. 
Pick a theme for each day (or for the entire week) and plan a few meals or treats around your theme. A quick search of the internet for Teacher Appreciation Week Themes will send you down a rabbit hole of creative ideas around food such as:
Our teachers are NACHO ORDINARY Teachers (Taco or Nacho Bar)

SOUPER Star teachers (Soup Bar)

How SWEET it is to be taught by you (sweet treats)

Our teachers are the best in the West (BBQ foods)

You have a PIZZA our hearts (Pizza bar)

And so many more fun ideas…
To add even more fun to your week, throw in some games, dress-up days, contests, or prizes that match your themes.
Get parents involved in sharing the love about their child's teachers & caregivers by asking them to record a super short video on the way in or out of the building (drop off or pick up). Explain to them that we are wanting to show appreciation to our teachers and would love it if they could tell us what they or their child love about Ms Suzy.
Provide a few question prompts to help them out:
"What I love about (teacher name) is……"

"My son/daughter loves Ms/Mr (Name) because….."

"Ms/Mr (Name) helped my child …….."

"My child's favorite thing about being in Ms/Mr (Name)'s class is…."
This will involve making sure you have a "parent testimonial wrangler" stationed in the lobby to catch as many parents as possible. You should also keep track of how many "praises" each teacher is receiving, and try to do your best to keep it even. If you have the time and resources, set up a fun backdrop on a bulletin board so you have a nice station for parents to stand in front of and give their words of praise.
When you are done collecting these edit them together and share the video with the teachers at the end of the week. They will feel very special and encouraged, knowing that the parents really appreciate the work that they do. As an added bonus these testimonials can double as marketing material, as you can share them on social media and/or add them to the appropriate pages on your website.
If collecting videos is difficult for you, alternatively you could collect notes of Parent Praise on fun shapes of paper and create a themed bulletin board showcasing the love. For example, if your theme is "Out of This World Teachers" you could use star or rocket ship shapes. Use comic book style speech clouds or BAM starbursts if your theme has to do with Super Heroes. You get the idea.
3. Punny Candy Bar Gift Ideas
Candy bars and sweet treats are budget-friendly last-minute gifts that you can surprise your teachers with each day of TAW. You can create your own PUNNY wrappers or tags to let them know how much they are appreciated, then sit back and wait for the smiles.


A few ideas for PUNNY candy gifts are:
You deserve a break today (KitKat)

You're the best teacher in the GALAXY (Milky Way)

Don't SNICKER, but I think you're the greatest teacher!

You're one GOOD teacher! (Mr. Goodbar)

When it comes to teaching, there's no one BUTTER (Butterfinger)

We found these at:

https://www.skiptomylou.org/candy-puns/

, but we guarantee a google search will turn up hundreds more.
Another teacher appreciation ideas we find that most of the time, owners give the same gift to the entire staff. For an extra special touch consider personalizing your gifts by making sure there is something unique for each individual person on your team. Hopefully, you and your admin team have been spending time building relationships with your staff and know a thing or two about their interests. What do you know about them? Are they into sports? Love crafting? Just got a new apartment? A happy health nut? A new parent? College student? Give each member of your team a small gift that shows you thought about them personally and care about what matters to them.
Make your team's jobs easier by providing something special for their classroom. This "gift" is technically owned by the center, but it will benefit the staff in their daily jobs so will likely be welcomed with big smiles. Is there something your teachers have been asking for? Is an equipment upgrade needed? Better storage? Updated books for the reading center? Invest in what they need to do their jobs better and you will have a happier team – especially if you let them help to pick it out.
Another Center-focused "gift" that would benefit your teachers would be to upgrade the teacher's lounge. Take a look and see if yours needs an update. Consider a complete makeover or add something over the top such as a massage chair, big screen TV, or a Kerurig with several pod flavors ready to go. Your team will appreciate that you are making their space more comfortable so they can truly relax during break times.
Your teachers are always pouring themselves into their work so the children have awesome learning experiences. When they go home at the end of the day, they are tired. Exhausted. Wiped-out. And in many cases, they still need to go home cook dinner, help with homework, do laundry, pack lunches, tidy the house, or other household duties. 
Make their life easier one night this week by sending them home with a hot, ready-made dinner for their family. Work with your cook to prepare take-home spaghetti dinners or a taco bar in a box. Preparing the meals yourself on-site is budget-friendly AND lets your team know you really care because of the effort you personally made to cook for them. Alternately, if you want to keep it simple for yourself, you could give them a gift card for pizza or something like KFC (with a family meal). 
7. Superhero Teacher Photo Booth
For an extra layer of fun, set up a superhero backdrop where your team can take selfies and group photos together. Include props such as capes, thought bubbles, masks, etc. If you are using a different theme, feel free to change up your photo booth backdrop and props. The point is to provide a fun place for your team to take photos. Bonus points if you put your logo somewhere in the backdrop, so as these photos are shared on social media, friends and family will learn about your school.
8. Social Media Shout-Outs
Spend time this week (or spread it out during the whole month of May) flooding your social media with special Featured Team Member posts. Depending on the number of staff you employ, you could feature them as a classroom teams, or individually. Be sure to share a little bit about their special talents or reasons you are proud to have them on staff, and thank them for giving so much to the children and families. To help your posts stand out, use Canva to create a fun Teacher Appreciation themed frame for the awesome pics you will use.
Invest in your team by giving them gifts that will help them to grow personally. We recommend a couple of our books as a teacher appreciation ideas that will help with mindset, goal setting, and gratitude. If you don't already gift these books during onboarding consider gifting one or more during Teacher Appreciation Week. Many centers have conducted book studies with their teams and have had a great experience as the whole staff gets motivated and reenergized together.
Check out the following titles below:

The Happiness Guide for Early Educators: Secrets to Living Your Best Life In and Out of the Classroom

Child Care Mindset: 30 Days of Growth and Transformation

Child Care Mindset: Dreams, Goals & Gratitude Journal
The Happiness Guide
for Early Childhood Educators
Brian Duprey teams up with Kris Murray of the Child Care Success Company to bring you this powerhouse gem. Intended for child care leaders to gift to their teams of teachers and caregivers to help them with mindset, making a difference, health & wellness, goal setting, leadership, work ethic, and more. Makes a great tool when onboarding new staff. Also makes a great group book study.
Child Care Mindset: 30 Days of Growth & Transformation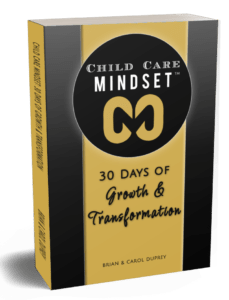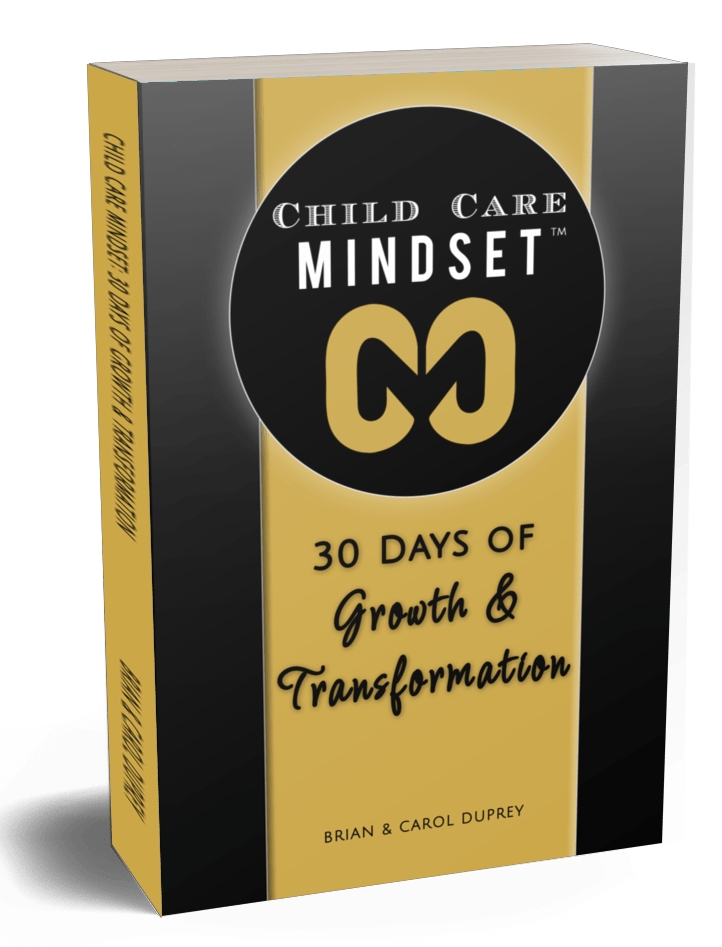 A positive mindset is essential to personal and professional success.  Child care owners, directors, and teachers should get ready to go on a 30 day transformational journey with our quick and easy game plan for a mindset shift. Since it takes around 21 days for the average person to develop a habit, the 30-day format creates a positive mindset habit that develops and will last a lifetime.
Child Care Mindset Dreams, Goals & Gratitude Journal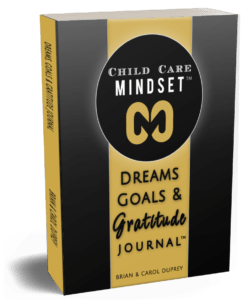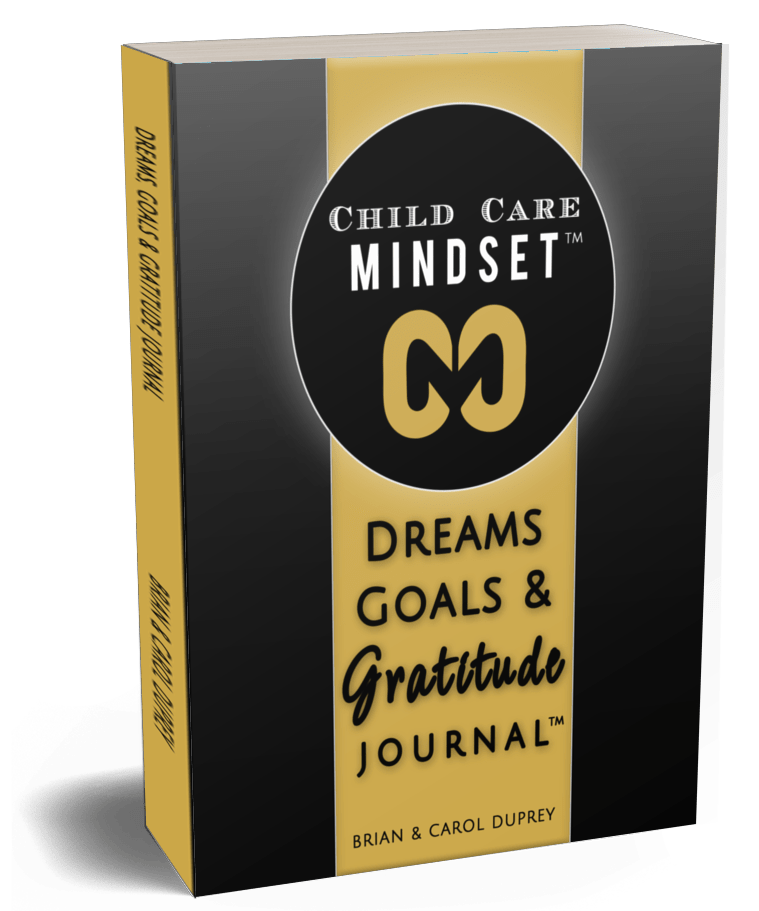 We highly recommend coupling this book with the Child Care Mindset: 30 Days of Growth & Transformation book. The Journal will help you to have and write down your goals and dreams and help you reflect on the things you are grateful for. Both the Journal and the book worked on and done together will be a transformation of epic proportion in your life.