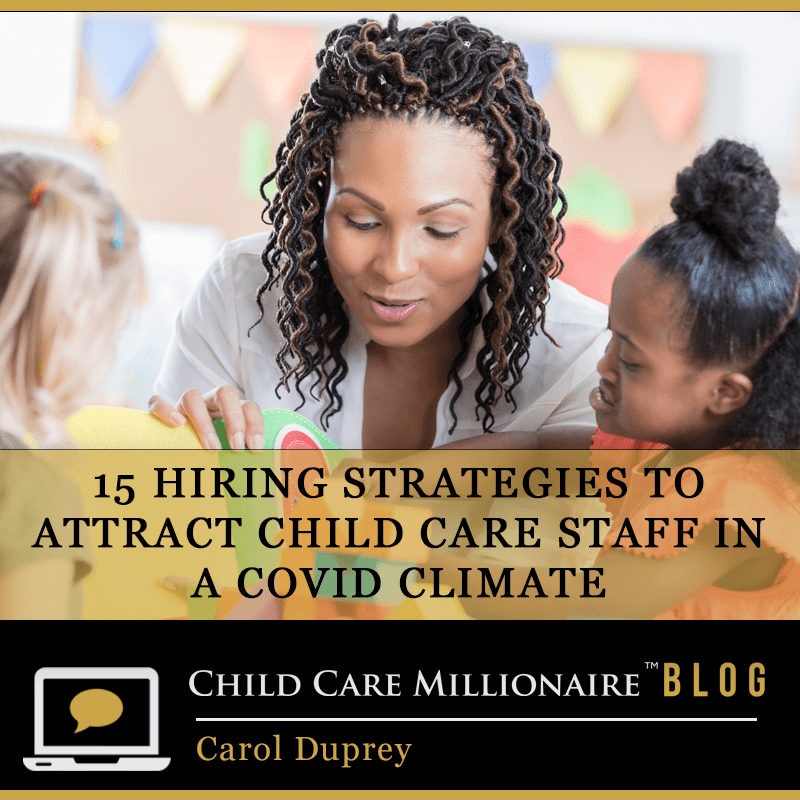 15 Childcare Hiring Strategies to Attract Child Care Staff in a COVID Climate
Every time I look on social media, I am seeing child care business owners post about having trouble finding new staff members. We are also hearing it from podcast listeners and conversations we are having with colleagues. The issue isn't unique to the child care industry, it's prevalent in most sectors of the workforce.
The phrase the great resignation, coined by a Texas A&M professor, says it all. More U.S. workers are quitting their jobs than at any time in the last 20 years. In April, the share of U.S. workers leaving jobs was 2.7%, according to the Labor Department, a jump from 1.6% a year earlier and the highest level since at least 2000. (Source)
The marketplace has shifted from employer-driven to employee-driven, and candidates know it. Demand for workers in general, is at an all-time high. Employees know they're in demand and that means business owners need to understand what workers want to attract and retain workers. Prior to the COVID-19 pandemic, difficulties in hiring had already begun. It was tough to find applicants, and get them to show up even for an interview. Since the pandemic, those difficulties seem to have multiplied at least ten fold. Yet, attracting quality staff and keeping them is a top-level priority for most child care centers. In many cases it may even be THE number one priority.
In child care, our teachers and caregivers are the most important aspect of being able to deliver our service to families and it has truly been difficult for many centers to successfully recruit staff. Offering higher wages does not seem to be enough to attract the staff we are all looking for. In fact, many employers have been raising wages and incentives to attract staff at a higher rate than they can increase their weekly tuition rates. Yet, vacancies on the team remain.
As a husband & wife team, we have owned and operated 10 child care centers over the last 25 years, and we have developed several tried and true strategies to attract quality employees. We are proud to say that we boast a very small no-show rate, as well as a high employee retention rate. We've also learned a lot working through this pandemic, and have a few outside-the-box ideas to share. 
If you are looking for ideas to attract more staff consider the following 15 Childcare Hiring Strategies:
15 Childcare Hiring Strategies
Strategy #1: Carefully Craft Your Online Presence
Attracting great employees starts before you ever run a hiring ad or post your job opening on your facebook page. Your school's reputation will make a big difference in the amount and quality of applications you receive. If you are not working hard to build up your employer brand online, you should begin making a plan to do so. 
Start by making sure your website is up to date, highlighting all of the benefits of your program and the quality of your service. Be sure to squeeze in as many positive parent reviews as you can. Both parents and staff will want to know that your center is top-notch before making a commitment to join you. Create or improve your careers page to include your company's core values, highlights of the benefits & perks of working at your school, plenty of team testimonials, and lots of pics showing your fun workplace culture. 
Monitor your online reviews on google, facebook, yelp, and anywhere else that people can review your school. Be sure to respond and thank people for their kind words, and to respond promptly to a negative review. If you don't have many reviews (or if you get a negative review) create a contest to incentivize parents to post their raving review. (All reviews posted on google this month will be entered into a drawing for a prize). Online reviews build trust, and trust is essential in the child care business.
Be proactive on your social media, showing pics of the kiddos engaged in learning activities, staff having meaningful interactions with the children, fun activities. Highlight your amazing team whenever you can with birthday posts, get to know the team posts, highlight achievements or celebrations. This lets potential parents know you have a great team in place and makes it more attractive to potential employees.
Take an action every single day to monitor and improve your employer brand and school reputation online so that you are THE center in your area that all the best teachers and caregivers WANT to work for.
Strategy #2: Reframe Your Hiring Ads to Reflect Your Company Culture
Rethink your boring old hiring ads, and update them to reflect the personality of your center. Try to create an attention grabbing headline or job title, include your company core values, bullet points on your wage & perks package, describe how they will make a difference, give them a glimpse into your workplace culture, and invite them to apply. Do what you can to make your ad stand out from the rest of the boring "job description and qualifications" job ads already out there. Get noticed through your creative and well crafted hiring ad so potential candidates are curious enough about joining your team that they apply.
Strategy #3: Respond to Candidates with Lightning Speed
We always talk about being slow to hire and quick to fire, but this does not work during the "great resignation." You need to be so quick to respond to applicants that they hardly notice a delay. Set up alerts when applications come in. Respond within hours if you can. You need to remember that all of your competitors are also looking for staff, and the fastest to respond is likely to snag the candidate. We recently interviewed author Vernon Mason, and he suggested that you contact the candidate within 24 hours, and set up the interview for the soonest time the candidate is available to come in. This sentiment is backed up by CareerBuilder who reports that "52% of job-seekers say lack of response from employers is their biggest frustration, and in the current hiring environment, candidates have higher expectations for proactive, transparent and frequent communications from employers."
Responding with "Lightning Speed" should carry over to the job offer as well. If a candidate seems like they might be a good fit, make an offer (contingent on background checks, of course). You will likely need to make several offers to have one candidate accept, so roll the dice and get them on the hook as quickly as possible. You can always let them go if it doesn't work out during the first 30 days. In most states, that will not affect your unemployment rating. By waiting an extra few days, your competitor may make them an offer and you lose a potential superstar teacher.
Strategy #4: Offer a Hefty Sign On Bonus
Doing everything possible to get quality candidates to notice you and WANT to come work for you is imperative if you want to fill all your staff vacancies. Create a highly competitive sign-on bonus, and I am not talking small potatoes. It needs to be upwards of $500-$1,000 to get the attention of the best people. Don't worry, you don't have to give it all at once. You can create an agreement that requires that they complete a training program, stay on for x amount of time, or release $100 per pay period until the bonus has been paid. Get creative with it. This signed agreement, and delay in payment will give them a financial incentive to stay with you and if they stay a few months, more than likely they will stay with you for years.
Strategy #5: Be Sure Your Wage & Perks Package is Competitive for Your Market
As we already mentioned, the market has shifted from an employer-driven to an employee-driven market. This means you will likely need to increase your wages and offer as many perks as you can. Do some research in your area to determine what you are competing with. In many areas people can find employment at a fast food chain starting at $15-$18 an hour. Many times potential employees weigh that higher wage against the level of responsibility that comes with a child care job and opt for the "easy" higher paying job. Put together a perks package that entices candidates to work for you. Anything that you do extra for your team should be highlighted. Ideas include free training, meals included, monthly outings, paid time off, birthdays off, flexible scheduling, teacher mentor program, teacher lounge stocked with snacks, classroom supply budget, opportunities for advancement, health or other supplemental insurance, CDA training program, tuition assistance or reimbursement, paid planning time, and/or a child care discount. Anything you do that is a benefit to teachers, add it to your perks package and promote it in your hiring process.
Strategy #6: Prioritize Creating a Positive Candidate Experience
Do what you can to make the online application and interview process as painless as possible. Be sure your online application is easy to submit, consider offering a quick virtual first interview via zoom. Taking too long to respond, scheduling multiple interviews, and ghosting candidates will definitely drive good employees away and poorly reflect on your business.
When your candidate comes in for an interview, place a high level of importance on the meeting and treat it like a tour. Show off all the best features of your program, talk about your core values, introduce them to key team members, take them on a guided tour of the school, consider the five senses and make sure all are covered, ask better questions, get to know them. Bottom line: treat them like they are the most important person in your universe while they are on site. If they feel like you value them and they align with your culture and core values, they will WANT to work for your school.
Strategy #7: Create and Heavily Promote a Referral Program
An employee referral system is a classic way to recruit new employees. Your school may already have a referral system in place, so consider making some creative changes to encourage more referrals. We'd suggest a high dollar amount, $200 or higher. You can add stipulations, such as the employee must stay employed for 90 days before the referral bonus is paid to the referring party. You could also try to find ways to make your referral program fun by creating a contest or offering a big raffle prize (something like a vacation package, big screen TV, or iPad) to one winner based on all referrals that come in this quarter.
Be sure to heavily promote your referral program by making current staff, current and former families, and local organizations aware of your program in a multitude of ways. Don't let them forget that you welcome staff referrals. Send emails, create social posts, create on-site bulletin boards, print flyers or brochures, add it to your email signature, create an info page to your website. Let everyone know about it regularly and often. Then repeat, and repeat again.
When you do hire a great new employee from a referral, be sure to share that news in all of the above ways as well. Share a pic of your new staff member with some "get to know them information" and thank the family or staff member for referring them. Share another post with a pic of the referring party with their cold hard cash in hand – or have a super huge check printed and have them hold that in the picture. (You can print one and use a dry erase marker to reuse it for different situations.) Do what you can to reinforce your referral culture and remind parents and staff that you reward referrals.
As an added benefit of referrals, candidates that are referred by a person they know will be more likely to show up for an interview, and are more likely to accept a job. After all, their trusted friend also loves your program and thinks they should work there. Referrals can produce some of the best employee candidates.
Strategy #8: Create a Recruitment Video
A recruitment video can be another great idea to attract new employees. Having a recruitment video available on your company's career page can give potential employees a visual idea of what it is like to work at the company. This can be something that you create yourself, or something you outsource. You can find several inexpensive options for video editors on upwork or fiverr, or look for an inexpensive video editing software online if you prefer to do it yourself. Is someone on your team already good at video editing? Give them a fun project and let them show off their creative skills. You can shoot all the footage you need with a simple smartphone and have it clipped together into a fun video showing lots of personality and staff testimonials.
Strategy #9: Host a Virtual Event
A virtual event can allow anyone who is interested in your company to learn more about it. Consider hosting a job fair or a free training for people interested in working in early childhood. This will give people who are interested, but perhaps not interested enough to attend an in-person event an opportunity to find out more about working for your school.
Strategy #10: Recruit Past Employees
Sometimes, the best new employees are former employees. Do you have a process in place that makes it easy for them to rejoin your workforce? Past employees have the advantage of knowing your organization and culture. Likewise, you have access to their information and performance history. Consider reaching out to former employees by email, or straight up giving them a phone call to explore the option of returning to the school. If the timing is not right for them, they may know someone to refer to you. Also consider creating a special section on your careers page for former employees. Making it publicly known that you welcome back former employees (who left on good terms) will increase the likelihood of them contacting you if they find out the grass isn't greener in their present circumstance.
Strategy #11: Partner with Colleges to Recruit Students
Students are a significant group to recruit from because they are considering their career path and looking for jobs. Working with community colleges, universities, departments and professors to reach students through job fairs or virtual events can help you find new employees. Having a section of your company's website dedicated to students or recent graduates can help attract more students to apply.
Strategy #12: Create Recruitment Cards
Business cards are a traditional way of gaining new customers, so consider creating recruitment cards to help you gain new employees. This is a better way of conducting word-of-mouth recruitment because it gives people a physical list of the company's highlights and makes them more likely to look into the opportunity. Give these cards to your employees and families and ask them to give them to anyone they think might be a good fit for the school. Center owners and the school's admin team should carry these cards on their person at all times, and when they come into contact with someone that provides excellent customer service, or demonstrates a key quality that you look for in a caregiver, give them the card and invite them to apply to work at the school. Tell them that the way they just handled themselves is exactly what you are looking for and you would love to have them on your team. You never know who is unhappy in their current job and is looking for a fresh opportunity.
Strategy #13: Offer Free Training
Offering free training is a great way to reach candidates who may not have applied otherwise. Some candidates have most of the qualifications required for the job, except for one or two classes. Training these candidates yourself can broaden your candidate pool and recruit new people. Offering to provide CDA training for employees that would like to advance into a lead teacher position is also a great incentive for new employees. If they can see advancement opportunities they are more likely to stay with your company longer.
Strategy #14: Paid Advertising is Essential
Do not rely on free listings or organic traffic. You must pay to advertise your job everywhere. If you haven't figured out how to use your Facebook Ads Manager, now is the time. If you need help, outsource it using fiverr or upwork. Facebook Ads are an absolute must. If your job listing is on Indeed be sure to choose a budget that will serve your ad to your local area. Consider outside the box advertising options such as local radio stations, or a local news program, buying commercial ad space at movie theaters, signs on local busses, shuttles or taxis… even billboards. Depending on your area some of these options can be affordable and will make sense for you. But know that you must pay to be seen.
Strategy #15: Create and Promote an Employee Mentorship Program
Creating and promoting a mentorship program will attract new employees because they know they will be supported and trained for success in their new role. This also contributes to decreasing employee turnover. Bringing a new employee who does not "know the ropes" of how a childcare center works can create some problems with existing staff, who worked flawlessly before the new person showed up. By having a mentor there to be the middleman; introducing the new team member around, making them feel welcome, and addressing any staff concerns is paramount to long term new employee retention.