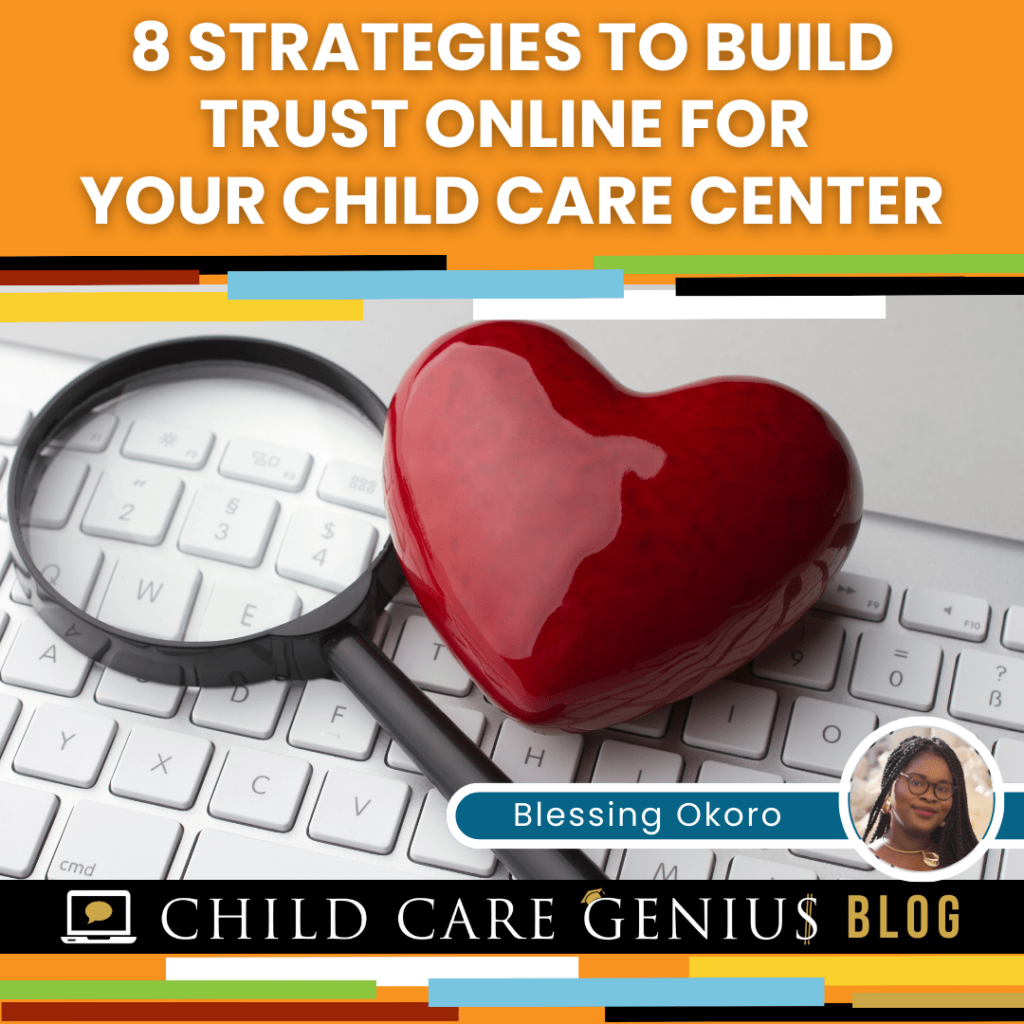 8 Strategies to Build Trust Online for Your Child Care Center
Hello, child care providers! In our digital age, having a strong online presence is key to attracting parents looking for the best child care centers. But it's not just about having a website; it's about building trust. In this blog post, we'll walk you through some practical tips to make your child care center's website a trustworthy and welcoming online hub for parents and guardians.
1. A Website That Feels Like Home
Imagine your website as the front door to your child care center. It should be inviting and easy to navigate. Invest in a clean, friendly design with clear menu options. Don't forget to make sure it looks great on both computers and mobile devices. A website that's easy on the eyes will leave a positive first impression.
Every child care center has a unique story. Share yours! Introduce your staff, their qualifications, and the special training they've received. Let parents get to know the heart and soul of your center. This kind of transparency builds trust.
3. Let Parents Do the Talking
Positive testimonials from parents who've experienced your child care services are priceless. Encourage parents to leave reviews and showcase them on your website. These glowing endorsements serve as a vote of confidence.
4. Safety, Safety, Safety
Safety is paramount. Make sure to highlight all the safety measures in place at your center. Explain your background checks, security features, and emergency plans. Parents need to know that their children are in a secure environment.
Start a blog or resource section where you can share your child care insights. Write about child development, offer parenting tips, and discuss industry updates. This not only helps parents but also positions your center as a trusted source of knowledge.
Make it easy for parents to reach out to you. Display your contact information, including phone numbers, email addresses, and a user-friendly contact form. Respond to inquiries promptly to show your commitment to excellent service.
If you accept online payments, ensure that your website is secure and uses reputable payment processing systems. Show trust symbols and logos that reassure parents about the safety of their financial transactions.
An outdated website can erode trust. Keep your site updated with current photos, news, and any changes in your services or policies. An active online presence demonstrates reliability.
Trust doesn't happen overnight, but these 8 strategies to build trust online for your child care center can help you.  Your child care center's website should be a place where parents feel confident and secure. By following these simple steps, you'll become the trusted choice for families in your community.
Child Care Genius specializes in helping child care business owners grow their businesses through coaching in operations, enrollment, marketing, workplace culture, HR, legal matters, finances, expansion, exit planning, and more.
If you're ready to receive expert help and coaching to accelerate your business growth, our coaching programs are designed just for you.